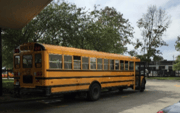 On Wednesday, September 29th, Approximately 30 individuals attending the Tamarack Community Change Conference filed onto a bus to travel to Toronto's vibrant Parkdale neighbourhood for an innovations in poverty reduction workshop and walking tour.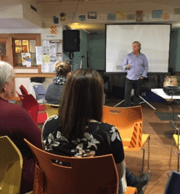 Our first stop on the tour was the Parkdale Activity Recreation Centre (PARC), where we were greeted by Executive Director, Victor Ellis. PARC was the ultimate host and starting place for the tour, considering the pivotal support it has given over the last 30+ to the neighbourhood's high proportion of low-income and marginalized residents.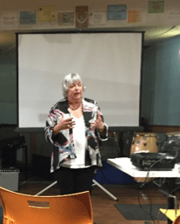 To kick off our workshop, Toronto's Deputy Mayor, Pam McConnell, took the floor to share some of the issues and challenges affecting vulnerable people in Parkdale, as well as other high risk Toronto neighbourhoods like Rexdale and Regent Park. She cited access to nutritious food, affordable housing and equitable transit as some of the major issues that came to light through a two-phase community engagement process that the City led between October 2014- September 2015, and ultimately led to the development of Toronto's first poverty reduction strategy: TO Prosperity. The strategy identifies 6 issues areas, Housing Stability, Service Access, Transit Equity, Food Access, Quality Jobs and Livable Wages, and Systemic Change, under which 17 recommendations were linked to an action plan to be carried out between 2015–2018. Some of the City's current priorities include the provision of affordable transit fares, social procurement, and the development of a Lived Experience Advisory Group.
The Deputy Mayor's overview of the Toronto strategy provided the perfect backdrop to the conversation that followed, about PARC's work toward building "a community where people rebuild their lives" where members of PARC, anyone who walk in through its open doors, can access services and develop relationships with its staff and peers through four core areas of operation: a drop-in centre, a peer informed Community Access Program, supportive housing, and PARC'S Community Meal Program.
PARC's other programming includes activity and recreation opportunities like music, soccer and writing groups, and a Coop Cred program that came to life after a research report was published in 2010, entitled "Beyond Bread and Butter: Toward Food Security in a Changing Parkdale" which also marked the early beginnings of the Parkdale People's Economy project (PPE).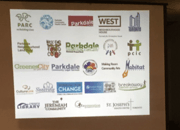 The PPE is a collaborative community project that includes 20+ partner agencies and organizations in Parkdale which seeks to build just local food economies through a community land trust model, a local currency program and community-based food distribution and procurement initiatives through Community Food Flow project.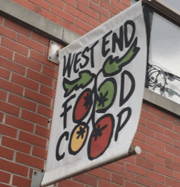 Following the introduction of the PPE, our tour group was ushered to take a stroll down bustling Queen Street to the West-End food Co-Op, where a colourful sign on brick siding welcomes guest shoppers and Parkdale residents alike.
Here we learned more about the alternative currency "Co-op Cred" program which was designed by the West-End Food Co-Op in collaboration with PARC to address systemic challenges that prevent many of Parkdale's low-income and marginalized people from fully participating in the local economy. Through Co-op Cred, participants can earn "credits" in exchange for their hours of labour and to use them to purchase healthy food available at the Food Co-Op. In short, the program enables trade of labour for goods without converting that labour into wages.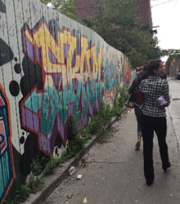 Onward we walked toward our last tour stop, down a beautifully graffiti-painted back alleyway to Parkdale's Milky Way Garden. This garden was the first land purchase made by the Parkdale Neighbourhood Land Trust (PNLT) which was established in 2012 to acquire land in order to remove it from the real estate market in order to better meet the community's needs. The PNLT is a community-controlled non-profit organization of residents and local agencies who owns the land on behalf of the community and leases it to non-profit partners who can provide community benefits. It is an important initiative that seeks to address the challenge of ensuring that everyone, particularly those with fewer resources and lower incomes, can benefit from the changes currently taking place in Parkdale, primarily rapid growth and development.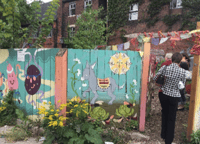 The remarkable relationships and activities taking place in Parkdale provide an incredible example of what a committed group of citizens can do to support an at-risk inner city neighbourhood,
Recently, the partners of the Parkdale Community Economic Development (PCED) project published a neighbourhood plan which aims to protect the neighbourhood from diminishing affordability and diversity as gentrification continues. If you're around the Greater Toronto area and interested in learning more or in doing your own neighbourhood tour in Parkdale, you can head to the Bonar Presbyterian Church for the official Neighbourhood Plan Launch on October 29th, where you'll also be able to do a Jane's Walk to explore proposed actions across the neighbourhood – click here for details.
Alternatively, if you can't make the launch, we invite you to learn more by joining guest speaker Victor Ellis in a free Tamarack webinar on October 27th between 1:00-2:00 pm EDT, entitled "Neighbourhood-Based Strategies that Reduce Poverty: The Parkdale People's Economy Project".
To our workshop tour partners Victor, Mandy, Josh, and everyone else involved in making the incredible Community Change Institute's Parkdale neighbourhood tour happen, thank you for hosting us and showing us what inspired action for community change looks like!
Learn More