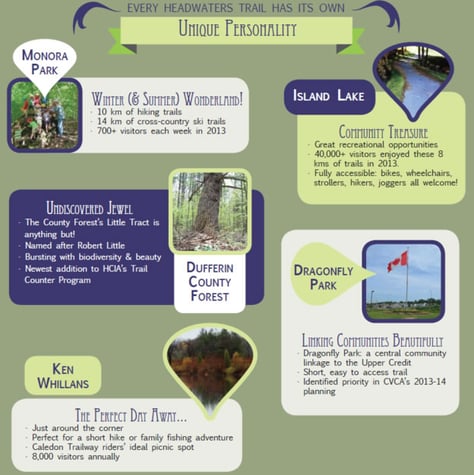 For twenty-­two years, The Optimist Club of Orangeville have hosted Christmas in the Park at Kaycee Gardens throughout the month of December. Countless volunteer hours go into creating this free, pet­friendly event that transforms a small local park into a magical winter wonderland with more than 50,000 bulbs lighting up several unique Christmas­themed displays. Musical groups and other local talent take turns offering live performances throughout the month, making this local tradition, a perfect way for people young and old to enjoy the holiday spirit.
Two years ago, Optimist Club Members asked themselves: Does this event still have impact? Is it something we should continue with or should the club consider doing something new? Through their involvement with local trails projects, some of the club members had heard about an infrared trail counter loan program that had been established by Headwaters Communities in Action (HCIA) to help local trail advocates obtain data on trail usage.
In December 2012, HCIA loaned The Optimist Club a trail counter for the month so they could get an accurate count of the number of people visiting Christmas in the Park that year. The club was astounded to discover that more than 10,000 people visited their display! The data had a remarkably positive impact on the club's volunteers because it provided a tangible measure of how much the community appreciated and valued this event. The event's 2013 counts demonstrated a growth in the popularity of Christmas in the Park with a total of 13,000+ visitors that year. This was a particularly significant increase given the poor weather that year, which included the ice storm which shut the part for a day.
The Orangeville Optimists credit the data from the trail counters as being tremendously valuable in their efforts to secure contributions from local businesses. They also suspect that having their event profiled in an HCIA Trails Counter Infographic which compiled and shared results generated from all the region's trail counters helped raise their profile as well.