When Stephen Covey published Speed of Trust in 2006, it marked a recognition that relationships are important to mainstream organizations and that trust­building is key to mobilizing their value. As the social sector increasingly builds networks of organizations to learn; engage with diverse others; and, to speed up knowledge development, we see how these loose relationships have value. But what do we really know about building trust in networks ­ structures that are less "hard­wired" than formal organizations ­ and how to work well in relationships without the defining bounds of role and structure?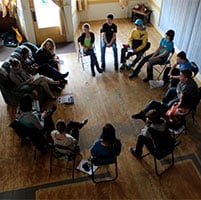 In her Network Weaver Handbook, June Holley, the denizen of network practice, suggests trust depends on being able to actually demonstrate reliability, reciprocity, openness, honesty, acceptance and appreciation in networked relationships.
She stresses that networks need to intentionally develop a culture of trust and lists five components that contribute to a culture of trust:
Values and behavior;
Framing and valuing trust­building;
Activities that build trust;
Network rules that coach and help manage misunderstandings before they become conflict; and,
Systems of reporting and accountability.
Learning together about networking practice is the purpose of the Ontario­based Network Thinkers Network. Recently we asked ourselves what we know about the subtleties of relational practice that build trust in networks. We speculated on the elements of "network etiquette" ­ that layer of practice that we might frame as good manners for successful networks. We noticed that success requires participants to develop a set of skills and behaviours that are often different from the way we are used to working in more formal settings. Without the formal "rules" of an organization, a network creates ­ consciously (or unconsciously) ­ a set of interpersonal practices that shape the way members build participation and cohesion around purpose. The network both requires and fosters skill development in network etiquette.
For some networks, good manners and common interest may be the only glue that binds. We asked what happens when good network manners are clearly articulated and intentionally framed to support the purpose of the network.
Download the full article to discover the difference between practice and manners, access a lexicon of good network manners, and consider good manners for the inclusive use of technology in your network.