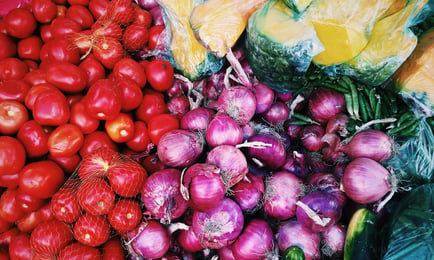 Access to fresh, affordable nutritious food is an important aspect of many local poverty reduction strategies. In Sault Ste. Marie, the Poverty Reduction Roundtable is addressing this pillar through a food resource centre called Harvest Algoma. Harvest Algoma was established by United Way Sault Ste. Marie & Algoma District, and the United Way continues to operate the facility.
The food resource distribution centre is creating a more efficient local food system, and has:
Increased the amount of rescued food from around the community that otherwise would have been wasted
Opened the door for regional surplus re-distribution to Sault Ste. Marie, and
Increased farmers' yields.
With Harvest Algoma's freezers, coolers, large commercial kitchen and cooking capacity, they have the scarce ability to accept and re-distribute perishables – meats, dairy, and fresh produce. If the food is in jeopardy of being spoiled, they have the means to preserve it – such as making applesauce from a large batch of apples.
Harvest Algoma re-distributes the food to emergency food providers such as soup kitchens, food banks and other community agencies – some of which have never been able to accept beef donations before!
What's more, they also have training programs and host food-related clubs; farmers and food vendors now have a space where they can process or cook their food to sell or export their products; and they are empowering the community to create food-related jobs and businesses.
With so much food waste and so many people going hungry at the same time, this initiative has created a community bridge to reduce hunger, reduce poverty, and increase people's opportunities to get skills to become involved in the community.
Take Your Learning Further: