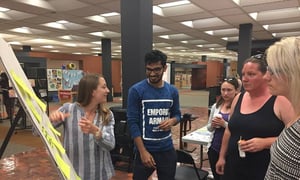 How does a community lead change on its own terms? The Winnipeg Boldness Project, a research and development initiative in Winnipeg's North End, is working to do just that. Guided by community wisdom and inspired by Social Lab approaches, their story is an example of what is possible for communities that are inspired to lead change.

The Winnipeg Boldness Project ("the Project") is a research and development initiative working alongside the North End community to identify effective mechanisms that will improve outcomes for young children in the Point Douglas area. The Project is working towards a Bold Goal:
Children and families in Point Douglas will experience dramatically improved wellbeing in all aspects of self: physical, emotional, mental, and spiritual.
The project has the following objectives:
Design a six-year Early Childhood Development (ECD) intervention strategy for future implementation that will help young children in Point Douglas develop the tools they need to succeed in life.
Create a strength-based narrative that highlights the positive and spirited aspects of Winnipeg's North End through community perspectives.
Build a child-centred model focusing on best practices for raising children through the deep community wisdom that exists within the North End.
We had the opportunity to speak with the Winnipeg Boldness Project to learn more about their work so far, the work remaining, and what they've learned along the way.
Learn More: