Follow up post to Feb 18th CoP meeting.
The Canadian Collective Impact Community of Practice (CI CoP) is for practitioners who are using the collective impact approach to achieve large-scale system change in Canada. The members meet bi-monthly to discuss questions, challenges and successes in their collective impact work, and to connect with one another.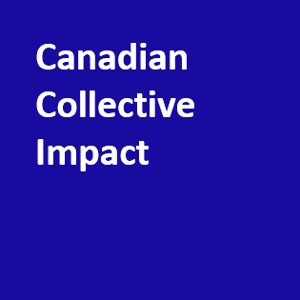 Our last CI CoP call took place on February 18th and we hope more of you will join us on the next call in April (exact date TBC). To join the Canadian Collective Impact Practitioner Community of Practice, please email Heather Keam, the CI CoP convenor, to be added to the membership and to receive email alerts about upcoming meetings.

Re-Cap of the Feb 18th Call
Our call this week was a group discussion set around the following questions:
What are the most pressing issues for you now?

What are the biggest unanswered questions you have around CI?

What can this Community of Practice do to help you?
Here are some of the points that were discussed:
Pressing Issues in CI
Potential for breakthrough is amazing with CI but challenges lie in how to engage people at a meaningful level, and how to implement solutions to complex problems. How can actors, big and small, work together to solve complex problems?

There are challenges in bringing people together working with a tri-sector approach. How do you facilitate conversations so that everybody can see the common elements and how they fit into the problem/solution? How do you connect the leadership to the worker bees – i.e. close the gap between action plan and implementation/talk and action?

How do you engage the community to get key messages across? How do we limit the intimidation community members might experience when invited to take part in community engagement processes?
Big Questions
Around evaluation: How do we show impact when solutions aren't known in advance? These problems are complex… How do we measure impact and leverage the potential for breakthrough when these are long-term initiatives we're talking about?

Can you have a deep and meaningful conversation with people through social media? Idea: it can be one part of a successful engagement campaign, but can't be isolated as a single way of communicating with stakeholders.
How do we make the conversation meaningful and interactive?

Ask yourself: what parts of CI are you good at, and where do you need extra support?
Going Forward with the CoP
Suggestion to keep presentations limited to 5 mins, and give the group something to react to. Let the conversation unfold naturally.

Organic nature of convo is appealing – let's connect and share and learn from one another.

Next Evaluation Community of Practice Call and Survey
The next Collective Impact Practitioner Community of Practice call will be scheduled for April. An exact date and topic will be shared with you by your convenor, Heather Keam. If you have any suggestions on what our next meeting agenda should entail, please email Heather.

If you would like to lead a 5 minute presentation about your own CI initiative and frame a question to your peers on a future call, please get in touch with Heather who can support you with this process. Alternatively let us know what topics you want to hear about, or speakers you would like to hear from on future calls.
Upcoming Events
We have some upcoming Tamarack events that may be of interest to our CI CoP members. Please click on the links to learn more: