This resource is also available in French. Click here to access the French version.
This blog post is part of a series written by participants in the Tamarack Institute's 2022 Community Climate Transitions Cohort, a 10-month learning journey in which multisector teams from 19 communities across Canada explored a collective impact approach to climate transition. See the full list of posts here.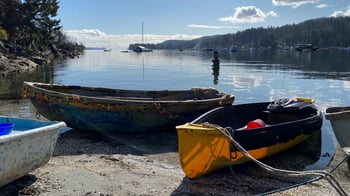 Transition Salt Spring brought together over 30 local experts in climate science, community change and leadership to create a local Climate Action Plan for our island community of around 12,000 people. This plan, widely adopted by local government and civil society, now forms the basis of the climate mitigation and adaptation work taking place across all sectors.
​​As we all know, however, adopting a plan and taking real action are often two very different beasts. That is why Transition Salt Spring needed to quickly ramp up to take the lead as a 'backbone organization' to bring the various actors together on a regular basis and ensure that our collective impact intentions became tangible results.
At the core of our work is a deep belief in the power of collaboration, a commitment to our relationships with each other and the need to constantly build trust by actively working together across differences. We 'move at the speed of trust' as adrienne maree brown has taught us. We also take risks, fail, learn and try again. A luxury that local governments often don't have. And we share power, using consent and sociocracy as our guides, we distribute power across the people and the networks – because we know in our bones that the climate, biodiversity, justice, housing, and other intersecting crisis are too complex for one organization, community, or government to figure out alone.
One of our first actions was a public engagement process like nothing this community has ever seen! Using a highly interactive online platform, over 2000 people answered some or all of the questions designed to get people to make concrete decisions about how we would reduce emissions as a community. The approach forced people to 'give and take' to arrive at an overall plan that was achievable and effective. For example, 73% of participants said they would support a 75% reduction in forest clearing. Of course, many wanted a 100% stop to forest clearing, but reality says that is likely not possible – so what compromises can be made to get the highest results? A fascinating process that can be duplicated in other communities.
After securing this type of community support, TSS ramped up its organizational capacity to continue to move toward the 250 recommendations in the plan. After two years, we have gone from 1 part-time staffer to 6, a super active Board, a number of Working Groups, and a healthy organizational capacity that has taken on dozens of projects.
On the ground, we are leading the local Climate Action Network, an invitation-only collaboration of stakeholders who have the resources to take concrete action – the local School Board, BC Ferries, all levels of local government, most non-profits, the local Foundation and many others.
This ongoing collaboration has resulted in our most tangible climate project to date – a nature-based solutions project in our largest watershed, designed to drastically reduce the risk of fire by improving the health of the forest and lake ecosystems. As islanders, we all live in constant awareness, and some good amount of fear, about freshwater availability (the only water we can drink is what falls from the sky) and what would happen to those water sources if they were suddenly drowned in fire suppressing foam due to a wildfire. Our community would be decimated overnight – so it's our number one priority to reduce fire risks and capture more water.
Among our many public engagement and education activities, our two innovative approaches are the recent Climate Action Arts Festival – a full month of arts events designed to reach people at an emotional level about the grief, fear and overwhelm of the climate crisis, and our Climate Action Coach Program – a kind of 'gateway drug' to get people connected to the first steps they can take on a personal level through home energy retrofits by offering local rebates (want a rainwater tank in your backyard? Come talk to us!). This opens the door of possibility and hopefulness that we hope leads people beyond despair and into greater depths of involvement.
We are excited and hopeful about the innovative thinking and acting going on around the world, and the Climate Transitions Cohort offered by Tamarack has given us lots of great examples to follow from others who have gone before us. And we would love to share our learning with others – so please connect any time!