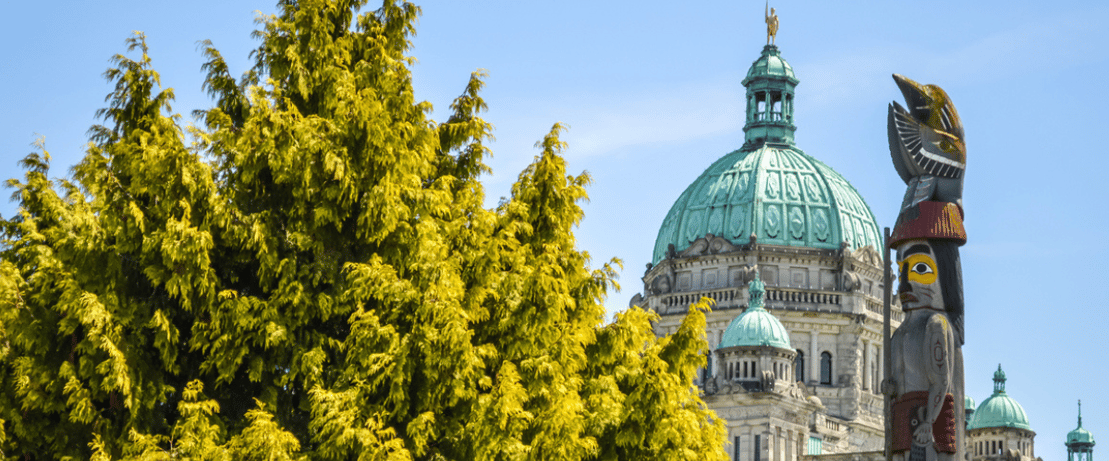 Lisa Helps, former Mayor of the City of Victoria, shares how shifting paradigms is possible when local governments are 'radically open-minded'.
Last month at the Communities Ending Poverty national Summit for Strength, Lisa Helps delivered a powerful keynote on "Leverage Points, Convening and Economic Reconciliation as Poverty Reduction." Lisa showed how the City of Victoria opened doors to build trust and relationships with local Indigenous peoples and used ordinary municipal tools in an extraordinary way to share wealth and provide direct economic benefit to the Lekwungan peoples, on whose territories the City of Victoria resides.


The Framework
As Mayor of Victoria, Lisa knew that a significant shift in paradigms and systems was necessary to undertake meaningful reconciliation. She turned to the wisdom of Donella Meadows for key leverage points for paradigm shifts, knowing that rules, behaviours, structures, goals, mindsets, and assumptions needed to change; and ultimately, they needed to remain 'radically open-minded'.
Lisa also took to heart the words of Peter Block, who wrote that in systems change, leaders are held to three tasks:
Shift the context in which people gather

Name the debate (or conversation) through powerful questions

Listen rather than advocate, defend, or provide answer
This framework set the stage for change.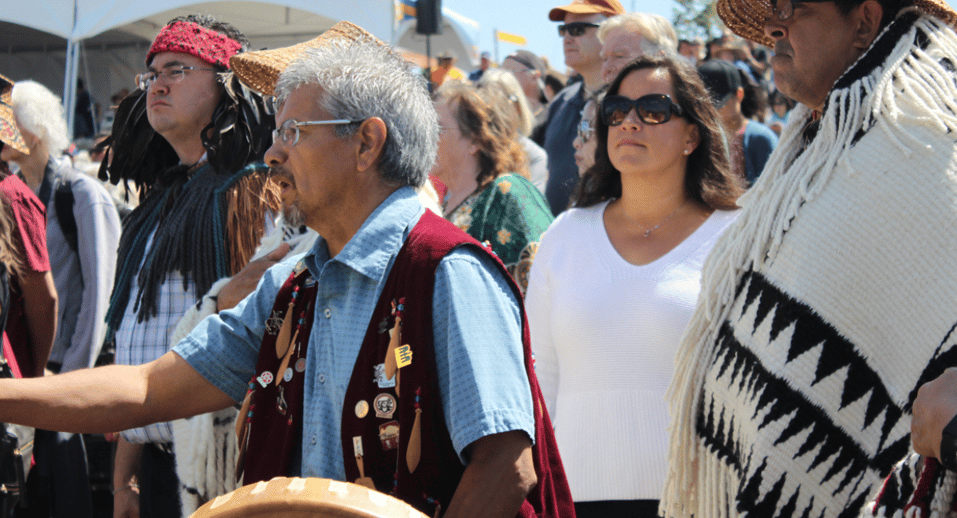 Three Foundations for Action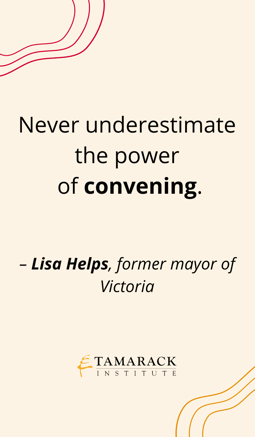 Above and beyond all else, Lisa knew that reconciliation action needed to be Indigenous-led and directed. Building relationships and trust took time but was necessary to establish foundations for action.

For example:

Convening – Foremost was the ability to convene and create space for conversations. Lisa emphasized that local governments should "never underestimate the power of convening". The first piece they had to understand was that the context of how people gather needed to shift. They discovered that the unit of governance for the Lekwungen peoples was the family. This transformed a 'task force' into a 'family' into which local government staff, elected officials and Indigenous representatives were invited. Mayor Helps became the 'head of the family'. They began by sharing meals and stories, and over the course of the next five years, undertook the work.

Building trust – To build trust and ensure that City Hall was a safe place for Indigenous people to gather, the City of Victoria went beyond words and took direct action. A statue of John A. MacDonald was removed from in front of the building. This was controversial and difficult but effective to ensure that when Indigenous people came into City Hall they did not have to pass by a statue of one of the architects of the residential school system.

Honouring protocols – On July 1, 2022, Lisa paddled across the harbour in a canoe with Indigenous people, stood, and asked permission to come ashore before leading Canada Day celebrations. Protocol helped bridge past and present, honoring both the people and the land.

Three Examples of Tools in Action
Lisa highlighted that while local governments were equipped with many tools and had everything they needed to address systems change for reconciliation, they were required to use these tools in a different way.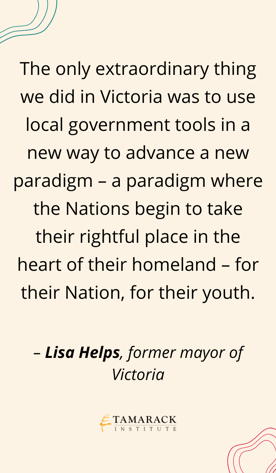 For example:

Land use planning – When the City embarked on developing the Burnside Gorge Neighbourhood Plan, they knew that the Equimalt Nation was in the process of negotiations to reclaim land in part of the area. So, during the planning process, instead of imposing their idea of what should go in that part of the neighbourhood, the City intentionally labeled the Indigenous land under negotiation a 'special area'. This meant that when the Indigenous Nation finally got the land back into their hands, they had full control and the ability to do with it as they pleased, representing both autonomy and huge economic opportunity. This process was Indigenous-led and informed.

Advocacy and support – The Nation asked the City of Victoria to stand with them in their land back negotiations, and so they did. The City participated in a formal, public Indigenous ceremony as part of the process, making the commitment overt and transparent, rather than 'behind closed doors'.

Property tax program – The City of Victoria recognized that all wealth generated through the land in the City, is garnished on that which once belonged to Indigenous peoples. So, when property tax notices are mailed to present day owners, the notices include a form explaining the City's reconciliation work and the principle of reciprocity, giving property owners opportunity to make a voluntary contribution equal to 5% - 10% of taxes to the Nation. These funds have no strings attached. Emphasis is placed on reciprocity rather than charity, again resulting in a redistribution of economic benefit.


The actions above exemplified honouring ways that the communities with which we all work operate. Lisa emphasized how time spent at the beginning building trust and relationships can speed things up down the road, and how important it was to re-think 'government' as 'family'. It was possible to bring deep love and connection to the work, with powerful, impactful results.
Learn more:
GUIDE | 10 Ways Local Government Can Propel Positive Social Change
BLOG POST | Vibrant Communities Calgary: Incorporating a Blackfoot World View
FIELD NOTES | Centering Anti-Racist and Equity Frameworks in Anti-Poverty Work
BLOG POST | Resources for Truth and Reconciliation
BLOG POST | In Cities, Reconciliation and Sustainable Development Go Hand in Hand