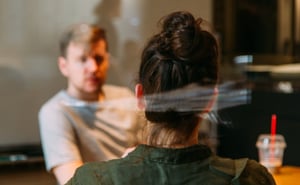 Developmental Evaluation (DE) can provide vital information to inform the evolution of a program or service by connecting what is done to what is happening with what our program is designed to do and our resources using data, design, and sensemaking. That's a tall order, but then DE is a particularly powerful approach to supporting innovation and program development. But how do we capture and document all the things that actually go into the life of a program? That's where the Living History method comes in.
The Living History method comprises data collection, sensemaking, and design strategies together to reflect on how a project came into being, develops a focus, and evolves up to the present context. It helps provide the 'backstory' to the present situation and provides a means of developing a baseline, which is critical for evaluating change.
A Living History provides a space to note assumptions, decisions, and actions tied to your program and provides answers to questions like: "why did we do this?" or "what led to this action?" or "what happened before I got here?" It can surface the path dependencies present in the program; those habits of mind that form, patterns of behaviour, and general routines that shape the culture of a program or organization.
Another role of the Living History document is to document environmental or cultural shifts that might affect a program. To illustrate, an environmental innovation project had its funding abruptly cut early in its multi-year plan due to a change of government and policy shift resulting in a drastic restructuring of its operations. The Living History captured the activities and lessons learned from that experience to demonstrate how the organization's strategy was changed, why outcomes might not have been achieved as intended, and explain why data collection activities were altered or abandoned altogether and what came from all those actions and decisions.
Introducing the method

A Living History begins with the genesis of the program. It's best set up as a shared document (any shared document like something via Dropbox or a Google Doc will work) that can be added to as the program evolves, hence the name. It is a repository for key events and decisions to help document the story of the program and serve as a data-gathering tool. A Living History is an internal-facing document that includes funding proposals, project charters, early evaluation reports, or anything that reflects activities of the evaluation that are representative of the development of the program. It doesn't need to be a polished document and while I encourage people to draw from it in developing reports or other public- or shared-documents, the structure and layout of the document aren't important. It's meant to be something that is organized, but also easy to work with. This means things like 'cut and paste' from other documents is fine; you're not plagiarizing anything by doing so and is something that the evaluation and leadership team can add to throughout the DE -- and beyond.
Taking a Living History
A Living History can serve as a place for summaries of existing documents and original data collected as part of the evaluation process including the following:
Document review: Foundational documents like funding applications, 'pitch decks', program and policy manuals, staff reviews, board meeting minutes, evaluations, and annual reports (to boards, funders, stakeholders, etc.) and Theory of Change documents can all provide initial content.


Interviews: Connecting with the program founders, board members (past and present), investors (and funders), as well as leaders involved in the initiative is critical. It helps surface both explicit and tacit knowledge held by those that helped shape the program.


Site visits: It is helpful to understand that programs – even those that are virtual such as a website or app — originate in the physical world somewhere. Site visits, when possible, help gather information about organizational culture, physical resources, and relational barriers and facilitators.


Timeline: A timeline is a simple method of connecting actions with decisions together in a visual means. This helps determine and organize data about what was done, but also when it was done.
The Role of Sensemaking
A Living History requires sensemaking because, like most interesting stories, innovating through complexity is messy and full of contradictions, gaps in logic, and remarkable things that can only be understood by sitting together with all the data in one place. These emergent properties — a coherence that forms as part of the process of (self) organization — are what make a program a 'whole' and not just the 'sum of the parts'.

The Living History method doesn't end with sensemaking what's happened, it also is carried forward. Developing a project dashboard for innovation evaluation is one way to pull together and organize past and present data. As new data is gathered and decisions are made, the Living History document will evolve along with the program itself and, much like pencil marks on a door frame might be used to document the growth of a child, this provides a means to document the life of your program.
This was adapted from a longer-form version on the Cense.ca learning page.

Importantly, such a matrix focuses your effort on building relationships with stakeholders and enquiring into how they might become a valued part of the process. I invite you to give this a try and to share what difference it makes to our approach, and to the outcomes derived from it.
What other improvements to community engagement planning processes have you come across, or created? For more ideas about co-designing solutions with your communities go check out Authentic Co-design.
Learn more: