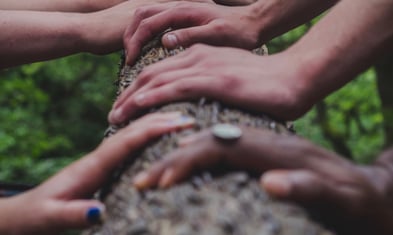 Having immersed myself in the Asset Based Community Development world, in my previous role in public health, and now at Tamarack, I keep seeing and hearing the same questions over and over. Is ABCD an inclusive process? How do you make ABCD address diversity? These questions have made me think about ABCD and does the approach address diversity and inclusion?
ABCD looks at the gifts and assets of people that exist within a community. This allows them to respond to and create local opportunities ABCD goes beyond the mobilization of a community and focuses on how to link micro-assets to the macro-environment.
ABCD builds on the assets that are found in the community and mobilizes individuals, groups, associations, and institutions to come together to develop their strengths. This process is very different from a deficit-based approach that focuses on identifying what is wrong and servicing needs. The key to ABCD is to start with what is already in the community and work together to build on the identified assets of all involved.
I often get confused by the meaning of diversity and inclusion as I hear people use them interchangeably. If we don't have a good understanding of what they mean, we will not be able to know if we can find ways to build communities in inclusive and equitable ways. According Meg Bolger, a social justice facilitator, when people are asked to define these terms, this is what is often said:
Diversity is often perceived to be about perspective, representation, tough conversation, and supporting inclusion.

Inclusion prompts answers about creating environments conducive to feedback, supporting diversity, and being open.
So, what do they mean?
According to the Webster dictionary diversity is the condition of having or being composed of differing elements. The Ontario government defines diversity as the presence of a wide range of human qualities and attributes within a group, organization, or society. The dimensions of diversity include, but are not limited to, ancestry, culture, ethnicity, gender, gender identity, language, physical and intellectual ability, race, religion, sex, sexual orientation, and socio-economic status.
Inclusion on the other hand, Is about people with different identities feeling and/or being valued, leveraged, and welcomed within a given setting (e.g., your team, workplace, or neighbourhood). Inclusion is recognizing that we are "one" even though we are not the "same". It is recognizing, welcoming and making space for diversity. The aim of inclusion is to embrace all people irrespective of race, gender, disability, medical or other need.
"Diversity is being asked to the party. Inclusion is being asked to dance." - Verna Myers
So where does diversity and inclusion fit into ABCD? ABCD is about recognizing that everyone has a gift and creating space to embrace those gifts in the community. No matter who you are or were you are from it's about the individual gifts and skills you have to contribute- everyone has gifts and assets.
The principles of ABCD that supports inclusion and diversity
Everyone has Gifts: each person in a community has something to contribute.
Relationships Build a Community: people must be connected for sustainable community development to take place.
Citizens at the Centre: citizens should be viewed as actors—not recipients—in development.
Leaders Involve Others: community development is strongest when it involves a broad base of community action.
People Care: challenge notions of "apathy" by listening to people's interests.
Listen: decisions should come from conversations where people are heard.
Ask: asking for ideas is more sustainable than giving solutions.
As John McKnight states, the current concern about diversity might better be defined as a concern with the exclusion of "labeled" people. The greatest diversity in any local community is the gifts that the individual members have. If we focus on those individual gifts, then this valuable asset may be more effective in overcoming exclusion than efforts to talk about how different the community is and ways to categories them.
ABCD is a process that when done right, is inclusive and diverse. ABCD is about people's gifts and skills that they have no matter what their race, income, ability or gender is.
Take Your Learning Further: