What kinds of rural transportation solutions are feasible at a community-level?

Rural transportation is a key domain in poverty reduction strategies, particularly in rural regions. Access to affordable, quality (i.e., timely, reliable) transportation can help people gain access to good jobs, education or training, groceries, medical appointments, social interaction, and more. All of which can reduce poverty and promote healthy wellbeing.
Innovative Approaches You Can Implement in Your Community
From 2019-2022, several rural communities shared innovative approaches to affordable and accessible transportation as part of their poverty reduction strategies.

This blog post summarizes three approaches which other communities may find useful in designing local interventions.

On-Demand Buses
This type of transportation solution is characterized by the following strategies:
Fleet ownership – Mobilizing existing buses or purchasing vehicles
A tech platform for users to request rides and to automatically map routes
Service is not tied to specific activities (i.e., users can take it anywhere – rides are not tied to jobs, medical appointments or grocery store trips)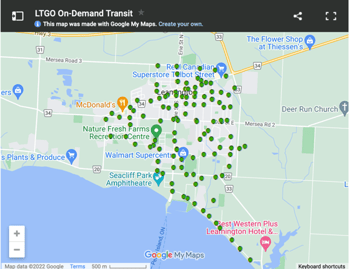 Examples include Belleville, ON, (pop. 50,720) and Leamington, ON, (pop. 27,595) contracting tech companies to create their on-demand systems. Riders use an app to request a pick-up and drop-off spot, and the app automatically generates the most efficient route. Bus stops are pre-designated, but the bus only shows up if riders have requested a pick-up. Both municipalities had existing bus fleets they could mobilize.
Results from Belleville have shown the following:
Powell River, a community of 13,000 people, used a similar model to launch their Zunga Bus, but without an existing fleet, needed to find a vehicle. They partnered with a private tech firm to access a federal innovation grant which sponsored them to build the on-demand system and purchase a bus.
Results from Powell River have shown:
99% positive user experiences with the bus
Helped decrease senior isolation
More efficient routes: the City replaced one fixed route with the Zunga bus and consolidated two other routes into one high-frequency express during peak hours


Dial-A-Ride
This type of transportation solution requires medium investment in a central coordinating system, and is characterized by:
lack of existing local government transit
a community-wide asset-based solution – mobilizing residents' vehicles
door-to-door service
more person-to-person interaction (e.g., human coordinator, conversations in transit)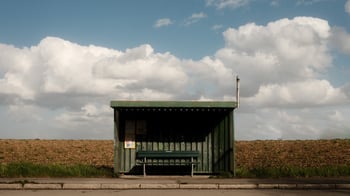 Examples include Innisfil, ON, (pop. 36,566) partnering with Uber to subsidize rides. Their proximity to the Greater Toronto Area was a great asset as there are many Uber drivers living in the rural community.
Cape Breton, NS, (pop. 94,285), which doesn't have ridesharing available, partnered with 10 taxi companies throughout Cape Breton to adopt a centralized system and worked with the province to subsidize taxi rides.
Results from Innisfil and Cape Breton include:
Riders find it fast, affordable, friendly, and easy
It's a cost-effective solution for a large town that can't afford a bus system
Service helps people get to employment and/or take more shifts, gain access to healthier foods, medical care, education, or spend time with friends and family
Subsidies helped people accrue more savings
During COVID, taxi drivers found they were helping essential workers get to work, which additionally helped the drivers maintain income throughout COVID-19
Southeast and Southwest New Brunswick had three programs offering volunteer drives, which all amalgamated into Urban-Rural Rides. With the centralized system, they were able to expand to unserved regions and increased ridership. Now they co-fund a staff member to coordinate all of the rides.
Results of Urban-Rural Rides show:
Reduced isolation and helping retired seniors give back to the community
Individuals feel valued that someone wants to lend a helping hand. One person forgot about their chronic pain while talking to the driver – these experiences are more than just rides: they provide a sense of community and belonging
Helping seniors age in place by supporting their mobility at-home

Small, unique programs
This type of transportation solution is characterized by:
Community contributions (no funding, no fleets, no software or developers)
Providing tools and resources to build capacity in small communities to develop their own solutions to their unique needs
Mobilizing any existing vehicles and expanding their service
A multitude of small projects done well
Micro-scale projects from Alberni Clayoquot (pop. 10,000-18,000) Health Network's Transportation Project in BC include a Google asset map depicting the challenges of rural transportation and helping communities build their case for transport projects, taking people to medical appointments, expanding a beach bus to take residents to work, and creating community-to-community bus service through the province.
Results from Alberni-Clayoquot show increasing capacity:
Lots of passion created amongst the community by bringing people together around a common issue
Partners teaming up to co-purchase vehicles
Five communities with paved road access now being connected community-to-community
No one model works for every rural community due to the unique characteristics of each area. The common refrain is to take stock at any and all existing assets, including engaging businesses in public-private partnerships.

Explore more models
The report Navigating Rural: Place-based Transit Solutions for Rural Canada summarizes several more rural transportation models – and challenges – across Canada.
Additional models include:
Active transportation: Ex. bicycling, walking
Multimodal: Ex. biking to a bus stop
Flexible routes: A fixed route with some flexibility

Read more about rural transportation barriers and solutions here and explore the Rural Ontario Institute's Community Transit work here.