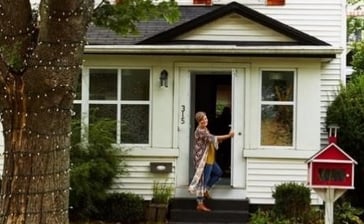 Maureen bustles around her kitchen, boiling water for tea and looking around for the sugar bowl. She has already laid out 20 mugs but decides at the last minute to pull 10 more out of the basement. It still isn't quite enough but they'll make do. She has never been formally trained in the practice of community development, but you won't find a more natural community leader than Maureen.
Young mothers arrive with babies in arms, older couples arrive together. Farmers are bringing boxes of cheese, soap and preserves. Three women settle into the living room and pull out their knitting projects, admiring each other's patterns and progress. Two young men are in the corner talking about home brew and their recent attempts at making sauerkraut. Maureen greets the people she knows but spends more time with those who are strangers – the brave new faces who are joining in because they are curious about this gathering. She knows that building community requires an act of hosting – creating a sense of welcome and connection that will keep people coming back.
Municipalities, provincial, and federal departments are all looking for ways to authentically engage in community – Maureen is already doing it.
Maureen is a host of a LifeSchoolHouse folk school in Nova Scotia, Canada, where 8 similar venues are piloting adult folk school programming in urban and rural venues. This crowd of neighbours and strangers have gathered at her house for a Makers Swap. A monthly gathering where people trade what they have made for items others have created. These events have spun off 200+ folk school classes held in homes across Nova Scotia in the last 18 months have surfaced tremendous talent and generosity in community. (member submitted video about Makers Swaps)
LifeSchoolHouse (LSH) is a model of Asset-Based Community Development that draws people together through folk school classes to build more resilient communities. Activated citizens host each other to foster and accelerate social change, and collective future readiness. LifeSchoolHouse is the only known barter-based folk school model in the world. In this context, barter means that the Hosts are volunteers who offer free space in their own homes, barns or workshops for the gatherings - accommodating the growing numbers while eliminating the need for infrastructure investment. Facilitators offer to teach new skills and are compensated by barter items or gifts brought by the class attendees.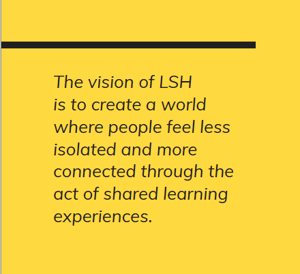 Bartering reduces barriers to participation by allowing neighbours to bring gifted items to exchange with the facilitators in lieu of paying for the knowledge or skills being shared. Classes are not free, but everyone in the community is participating within their means, creating accessible programming across socio-economic divides. Nearly every workshop is full with a waitlist, often within moments of posting. Research shows that most attendees are joining classes because they are seeking connection in community – the class topic is a secondary factor.
The model has been built to realize a number of aligned goals: direct outcomes include establishing a cadre of new leaders in community, leveraging community assets (facilitators) and creating new narratives about 'community spaces' by putting private space into the commons. Indirectly, this work is reducing the impact of social isolation, increasing wellbeing, increasing civic participation and reframing the culture of "care" in communities.
After a successful year of hosting swaps and workshops, LSH engaged in a developmental evaluation in 2019 where data informed the design of hosting guides, templates for facilitator recruitment, marketing materials as well as scripts that help maintain consistency for the community development aspects like Leading the Opening Circle, Powerful Check-in Questions, etc. This helps leaders like Maureen to be successful with very few start-up funds required.
LifeSchoolHouse has also designed a regional network model that involves peer support and training for hosts in a defined area. The model is able to grow organically because each start-up shares their skills and experience with new hosts while a regional coordinator finds and connects volunteers from within communities. Once selected as a Host, training in the principles of Community Development, Mental Health First Aid, Hosting, etc, provides ongoing development that both prepares the hosts for this project and provides compensation for their volunteer commitment with access to transferable skills. This training increases the effectiveness of the Hosts and embeds experienced community developers in communities across the region as living examples of active civic participation - starting ripples in the pond that are impactful in the communities where they are embedded.
In September 2019, the LifeSchoolHouse model was launched internationally in Denmark at the International Summit of Folk High Schools. In 2020 the model is prepared to launch in 3 new locations in Canada and considering two international start up regions - applying a cooperative, "build it together as we grow" approach. Interested in learning more?
Join us for a webinar discussion on Building Social Capital Through Community Development on January 29, 2020, and check out our website

Folk schooling: Learning not just to earn a living, but to build a life