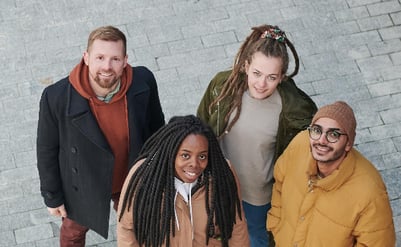 There are so many resources on Asset-Based Community Development (ABCD) for professionals. We decided to write one specifically for residents, called Asset-Based Community Development - How to Get Started.
If you love your community in principle, but wonder, "what can I do to get going?" in practice, then this handbook is for you. And if you are an experienced community builder eager to invite more people to contribute to the well-being of their community, you'll find plenty here to energize you.
This short practical guide offers many fun and useful tips on how you and your neighbours can build community together, in a way that starts with a focus on what's strong, not what's wrong.
The ideas contained here have been tried and tested by residents in many Norwegian communities and in neighbourhoods, towns and villages across the world.
We believe there is an abundance of untapped capacities and resources in every community, waiting to be discovered, connected and mobilized, and we hope this handbook supports you and your neighbours.
This booklet was developed by Associate Professor Rita Agdal, head of the Master Programme in Community Work at the Western Norway University of Applied Sciences, and Assistant Professor Inger Helen Midtgård at the same department, in collaboration with Cormac Russell, Director of ABCD Europe and Faculty member of the ABCD Institute at DePaul University, Chicago. Managing Director at Nurture Development.
Take your Learning Further: