In June 2020, Tamarack Institute launched the Community Innovation Fund: an annual opportunity for Communities Building Youth Futures to prototype a new program, product, service, or system to improve education, employment, and/or training opportunities and outcomes for local youth across Canada. We were thrilled to announce six projects who received the first round of funding, and eight projects that received the second round of funding.
Over the past year, fund recipients implemented community innovation pilots and documented their learnings, including successes, challenges, impact on youth, and barriers that youth experienced over the course of the project.
Here are three case studies from the first round of funded projects from Manitoba, Saskatchewan, and Northwest Territories that demonstrate how communities are adapting to COVID changes and meeting urgent youth needs.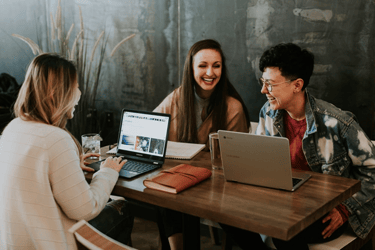 Portage la Prairie: Roving Campus Re-engages Students
Roving Campus was created by three local teachers with support from the Portage la Prairie School Division. Roving Campus operates five days a week. Three days are dedicated to the teaching of essential outcomes and certifications. Two days are reserved for planning, coaching, and one-on-one instruction.


Prince Albert Bridges the Digital Divide with Local Youth
The digital divide has had a significant impact on youths' ability to participate and succeed in school, to connect with their peers, and to access opportunities and supports. Learn how CBYF Prince Albert's project connected youth with technology using a youth engagement approach.


Yellowknife Youth Reach Their Dreams Through Technology and Mentorship
Due to the pandemic, youth in Yellowknife had limited educational support options and the need for additional employment support for them was heightened. Learn how Yellowknife supported youth through mentorship and technology.
Tamarack is also pleased to partner with Canadian Council for Youth Prosperity, Mentor Canada, NPower Canada, Opportunity For All Youth, and Pathways to Education to bring a series of essays that spotlight how the digital divide has affected youth across Canada.
Stay tuned! We will continue to showcase innovative approaches from communities throughout the year.