Center for Transforming Communities (CTC) is dedicated to the holistic transformation of communities in and around Memphis,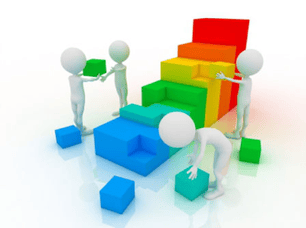 Tennessee. Using the principles of Communities of Shalom, we strive to engage, equip, and mobilize others to seek shalom in their neighborhoods and communities.
The first workshop that I attended this week at Tamarack Institute's 2016 Community Change Institute demonstrated a simple tool for working with multiple stakeholders in a collaborative way.
The first step in the process, Liz Weaver explained, is to have the stakeholders reflect on their history. What has happened in the past? What is the story you share? Liz went on to explain that the reason for the first step is because everything we do is built upon something else.
If you have hung around Center for Transforming Communities (CTC) for a while, you will know that we are a huge fan of stories. Our Communities of Shalom training often begins with an activity called Jumpstart Storytelling. We love to facilitate the connection between youth and elders so that the youth can hear the stories of their community. (We do this each summer through the Neighborhood History Project.) And, CTC's blog is full of stories from the Shalom Zones!
The CTC board and staff also retell the whole story of our organization and the Shalom Zones about every two years when we take a day to reflect and plan.
I think most people would agree that remembering our story (our history) from time to time is a good and important thing to do. What struck me today, however, is just how often a part of Toronto's shared story is remembered.
Each day in the Toronto public schools, a student begins the daily announcements with "an aboriginal protocol." It begins, "I would like to acknowledge that this school is situated upon traditional territories." Then the student names the indigenous tribes that were the First People in the Toronto area.
And, on a learning tour of a Toronto inner-city neighborhood Wednesday afternoon, I met the Deputy Mayor. She began her remarks with an acknowledgement that the non-profit agency we were visiting was situated upon traditional territories. How powerful to be reminded daily, or more, that "everything we do is built upon something else!"
And so it had me wondering, what would this look like in Memphis? In the spirit of truth and of reconciliation, what should our daily and public remembrance be?
Learn More: