Papers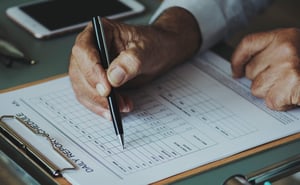 Evaluating Systems Change: An Inquiry Framework
Social innovators, evaluators, and community changemakers are increasingly focused on changing complex systems, but often struggle to describe either the systems itself or what they hope to achieve. This paper is designed to give clarity on how to approach the evaluation of systems change and provides three types of results that social innovators and evaluators should consider "mission-critical" to their work.
Webinars
In 2018 Tamarack hosted two webinars on Evaluating Systems Change. Look out for more resources as we continue to explore this topic!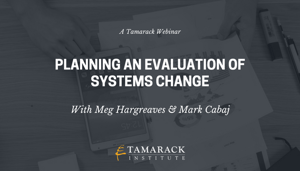 Planning an Evaluation of Systems Change
Featuring Meg Hargreaves & Mark Cabaj
In this webinar, Meg Hargreaves and Mark Cabaj explore the ideas and steps required to properly evaluate 'system changes' that emerge when tackling complex issues. Using her experience in systems change evaluation, and her publication "Evaluating Systems Change: A Planning Guide", Meg provides a foundation for understanding and approaching this important topic.
For more on Planning Systems Change Evaluation, see Evaluating Systems Change: A Planning Guide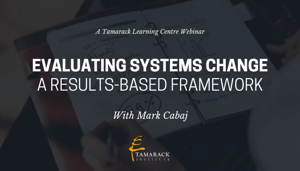 Evaluating Systems Change: A Results-Based-Framework
Featuring Mark Cabaj
Almost anyone who is interested in making progress on tough economic, social and environmental issues is committed to changing the system. Yet, many social innovators — and the evaluators that support them — struggle to describe what systems they want to change and what they mean by 'results'. This webinar explores an archetypical results framework that can be used to inform the thinking of any effort to 'change' systems.