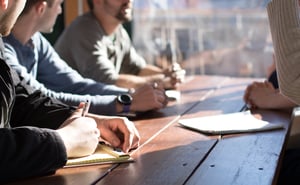 I think I might be experiencing some consultation fatigue. When an in-person consultation comes up in my community I have full intention of attending. I have opinions I am eager to share. I even RSVP. But I mostly don't end up going. Then the full effects of cognitive dissonance set in.
I recognize the consultations as important, just not high enough priority based on my other commitments and energy levels. I find that often we can be less engaged than we think, and that consultations in general can be far less compelling than we'd like them to be.
As I reflected on the best community events I've attended, I quickly realized that almost all of them were run by one person - Hilary Abel. Currently working on Downtown Community Development at the City of Kitchener, Hilary and the team develop experimental programming, marketing and engagement for Downtown Kitchener residents, business owners, and building owners. Prior to her work at the City, Hilary developed a series a events in Waterloo Region that explored different ways to bring creative people together, including a party on a moving train.
Hilary is the kind of person who oozes creativity. Surrounding her creativity though is a straightforward and humble way of thinking that puts the community first, always. So I asked her on a smoothie date to pick her brain about how she approaches community consultations as a community organizer.
Here are the 8 takeaways from our conversation:
Care about the people.
Before you begin planning a consultation spend some serious energy thinking about the people you want there. Ask yourself: What do they like? What would they find interesting? What would be novel or exciting to them? What time do they have? Your community should be the primary stakeholder and you are consulting to learn from them so make sure the conditions enable that.
Partners
Never go it alone. Invite relevant partners to co-host or be involved in the consultation. You can leverage their credibility, expand your reach via their networks, and raise the bar for what you'll achieve. Connecting with your local BIA (Business Improvement Area) is often a good starting point. By figuring out your shared goals and making sure each partner is getting something out of it, the event will be more meaningful to more people.
Location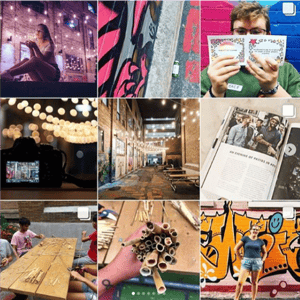 Is everything. Ask these questions: Where do people socialize? Where can they easily access? What are the unique assets in their community? How can you work with partners to host an event somewhere surprising? Go to the community, rather than expecting them to come to you. The answer is rarely city hall.
Think about the feeling you want to create. I shouted hallelujah when community engagement practitioners began facilitating conversations in pubs and coffeeshops. If you're wanting the consultation to be comfortable and personal make sure the location reflects that. Hilary shared an example where Downtown Kitchener activated one of their laneways by adding picnic tables, patio lights, and murals which created a community space fit for a party whenever they wanted to engage the community.
Deliver something unexpected
Having fun is seriously important. People love to play. People like music. And food is the answer to most things. Consider a bold rule that every event should have something new or exciting. If you're consulting on a topic that is considered dry or not compelling on its own, wrap it up in something larger. As an example, the City of Kitchener wanted to consult with the community on their ideas for re-imagining a downtown street. Instead of focusing on the consultation part, they hosted a street party to bring people to the space. They then positioned a table right in the middle of it to hold a space for the consultation activities.
Your goal is to create an experience. Authors Chip and Dan Heath write about the Power of Moments and how we typically remember the best and worst moments of an experience, as well as the last moment, and forget the rest. We can reap significant rewards by creating just one moment of joy, wonder, fulfillment, or connection.
Take a risk. Ask yourself what's the worst thing that could happen?
And if you want to be pragmatic, know that play is proven to make people more creative which will lead to more fruitful idea generation.
Validate your idea
Figure out who is closest to your target audience/s and ask them if they think it's a good idea. If you don't have someone suitable on your team, go and validate it with someone who is representative of the community. Validate early and often. Creating an event that is exciting and resonates with the community will amplify the impact and results.
Understand Give and Get
When you invite someone to a consultation event, and they say yes—that is worthy of my time and energy—you should feel grateful. They are giving of themselves. So what are you giving in return? It may be a great experience, it may be good conversation and connection, it may be food or childcare or a stipend.
Build relationship
Connection is important. There's significant value in creating opportunities for people to meet, invest in each other, and break down barriers. Allow time for people to share. You can even facilitate it. Consider activities like speed dating or unconventional name tags which enable people to become aware of all the perspectives in the room. Imagine a community conversation where people's name tags say, "I'm an expert in…" and people write things like "accessing community services", "advocating for my son", and "what it's like living with an addiction".
Building relationships offers complementary and significant outcomes such as a sense of ownership, shared understanding, and investment in place and people.
Trust the people you're consulting
You are inviting people together for a reason so make it clear to yourself and to them that you appreciate them and value their ideas. Trust the community to work their way to answers. Your role then, is to be the steward of their ideas. To build trust, you need to show the community you're listening. A simple way to do this is to use their ideas word-for-word. Following the consultation, the community needs to recognize themselves in your feedback and project updates.
Never be defensive. If they ask something you find challenging, don't take it personally. If you don't know an answer to a question, say 'I don't know'. Honesty and transparency build trust. If it's likely to be a charged conversation, try having someone there who's perceived as being on both sides (eg. their city councillor).
At the end of the day remember that you're likely consulting to produce something in service to the community. So their thoughts, opinions and ideas should be the ones that matter.
---
The most inspiring thread throughout Hilary's thoughts and comments is also the simplest: Think of the person, not the support or information your initiative can gain from that person's participation. What do they find interesting? Where do they gather, so that we can come to them? How can we thank them for their participation? While these questions work towards respecting the autonomy and dignity of community members, you'll find that this people-first approach will actually improve your community engagement and insights as a result.
Learn More: