The halfway mark through the summer months can sometimes feel like a perpetual Sunday evening, with many of us counting down the days until the return to school and a milder climate.
However, if you grow your own foods or live off the land, this time of year is highly anticipated. Here on the prairies, there are berries to be picked, corn to be shucked and root vegetables ready to be plucked from gardens.Aside from these seasonal foods, there are also many traditional Indigenous medicines that are ready for harvesting at this time of year. The four sacred medicines are sage, sweetgrass, tobacco and cedar and they represent the four directions. As Elders have explained to me, no matter where you live and travel across Turtle Island (North America) you will find at least one of these medicines growing naturally.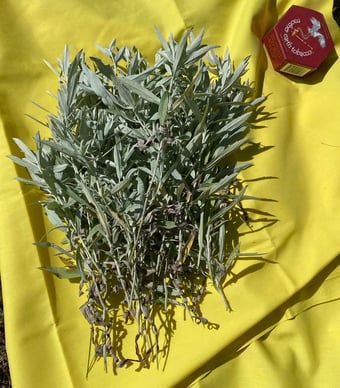 Many of us are familiar with sage as it is most widely used for smudging, though all these medicines can be used to cleanse negative energy away from our spirit. Sage should be picked in the summer months, closer to the end of July and August, but can be harvested later depending on the region and weather conditions.
On Treaty One Territory, an area well-known for their sage is Long Plain First Nation located south of Portage la Prairie. And so, I connected with our friends at CBYF Portage la Prairie and invited them to join me on a medicine picking field trip out on the land.
Long Plain reserve lands include the Long Plain Reserve #6, the Keeshkeemaquah Reserve near Portage La Prairie, and the Madison Indian Reserve #1—the first urban reserve in Winnipeg, Manitoba. The land at Keeshkeemaquah Reserve was originally used as the site of a residential school, Portage La Prairie Presbyterian Indian Residential School, from the years 1914 to 1975 and is a rare surviving example of Indian Residential Schools established across Canada. Six years after the school was closed, the building and its surrounding lands were transferred to
Long Plain First Nation to fulfill part of their treaty land entitlement. The former residential school was designated a national historical site in 2020.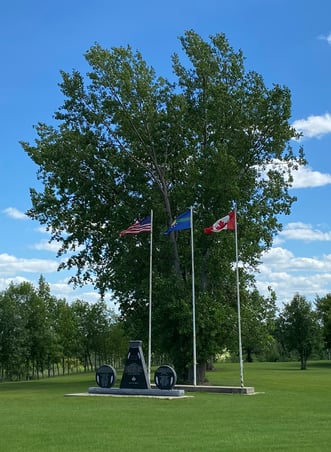 On our way to harvest, we stopped at a local business to purchase organically grown ceremonial tobacco which was produced by Mother Earth Tobacco, an Indigenous owned and operated business based in Long Plain First Nation. Putting tobacco down before harvesting sage is a way of acknowledging our reciprocal relationship and respect for Mother Earth and provides us with an opportunity to thank the land, thank the sage plant, thank Creator, and be intentional about healing and grounding.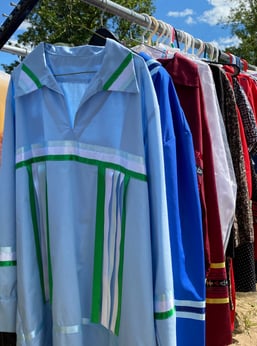 Upon our arrival to the community of Long Plain, our first stop was at a home-based business located north of the community's cenotaph. Here we were greeted with smiles, tables of traditional Indigenous artifacts, jewelry, quilted blankets, ribbon shirts and skirts, and Bannock burgers for sale. We purchased a few items including a smudge kit, west coast cedar and a protection pouch for medicines. We introduced ourselves to the artisans, Gloria, and Lenny, and explained that we had travelled there to harvest sage, and asked permission to do so as well as offered tobacco in exchange for guidance on the best areas to pick. We were led east to the pow wow grounds where we were met with a large monument in the form of a Grandfather rock commemorating the signing of Treaty One, on August 3, 1871.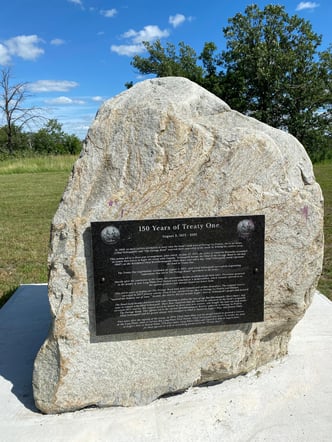 As soon as we arrived, the smell of sage and sweetgrass filled the air and guided our senses to a grassy area overlooking a valley of trees along the Assiniboine river. With our broadcloth and tobacco in hand, we began our journey of medicine picking. The practice of offering tobacco when harvesting traditional medicine may vary depending on the nation, and the teaching that I received and shared with the group was that we hold the tobacco in our left hand, offer a prayer of thanks to the land and Creator, and tell the medicine what the intended purpose is for the harvest. This practice acknowledges that everything has a spirit and that we must honour the gifts of all living beings. Following this, we lay down the tobacco and then begin the harvesting process.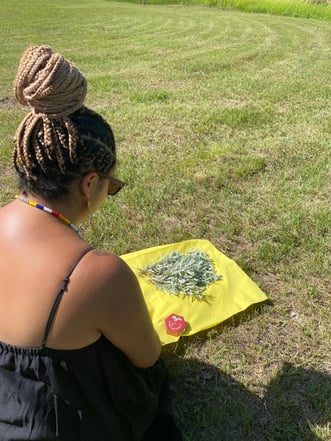 When picking sage, it's important to know the difference between female and male plants. Female sage can be distinguished by the flowering seeds at the top of the plant and tends to be a bit softer than male sage. A sustainable practice is to only pick the male sage so that the plants can continue to grow and flourish in the areas they are harvested. It's also important to leave the root in the ground so that more sage can grow in the years to come; this can be done using scissors or twisting the plant using both hands a few inches above the earth. We harvested only what we needed and made sure to leave sage for others to harvest for medicine and use for ceremony.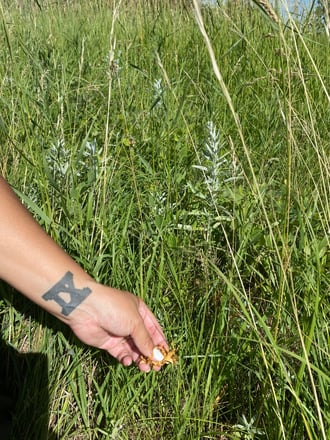 All medicines should be treated with respect and gratitude, as they have the power to create a sense of balance and restore peace in our lives. When we use sage to smudge, we are preparing our spirit to receive teachings and cleanse our minds. Learning about and continuing these traditional practices of medicine gathering is important as we continue to care for the land. Harvesting medicines in a sustainable way also preserves culture, carries forward Indigenous ways of land stewardship and connects us to treaty promises made over 150 years ago. I'd like to invite those interested in learning more about sage harvesting to connect with the original peoples of the land you are occupying and ask questions about protocols of their nation.
"For as long as the sun shines, the grass grows and the rivers flow." – Treaty One