On Wednesday evenings, while my seven-year-old plays basketball, I frequently have warm conversations with a school maintenance professional. She works with intention, and you can tell she believes that the kids in her building are full of promise and potential. She air-fives the coaches. She has taken time to learn about me and to share her perspective on what resources are needed to support young people.
She looks after a school at 6 o'clock at night, instead of eating dinner with the people she loves.
She likely makes around $39,000 CAD per year, which translates to $18.75 an hour.
Living Wage
Like thousands like her, this warm and dedicated professional does not make a living wage. A living wage, as defined by the Ontario Living Wage Network, is what a person needs to earn to be able to live in their particular community, pay rent, buy groceries, get to and from work, and purchase other essential household items.
This week was living wage week in Canada, and many communities and regions are announcing their living wages.
As shown in the chart below, there are scarce communities in Ontario where $18.75 represents a living wage.


Education Professionals Strike
Also this week, Ontario is facing the second Canadian Union of Public Employees (CUPE) strike of the school year. Around 55,000 education professionals (including school maintenance workers, librarians, and educational assistants) are asking to be paid a living wage. On Wednesday, November 16, 2022, they told the provincial government that they will strike the following Monday if their reasonable requests are not met.
If their reasonable requests for a living wage are not met, they will be forced to strike, and in-person learning in much of Ontario will shut down for the second time this year.
Tamarack's deepest hope is to end poverty in all of its forms. And, over the past twenty years of supporting communities to embrace whole-of-community approaches to ending poverty, Tamarack has learned that decent work looks like full-time, full-year positions that offer living wages in spaces that are psychologically and physically safe.
To end poverty, all Canadians must work to create a country in which everyone experiences living wages and decent work.
At this moment, with CUPE and provincial government in conversations about the wages of 55,000 education professionals – and with the gift of living wage data that helps us see what it takes to live – we have a tremendous opportunity to ensure that professionals who work in schools earn a living wage.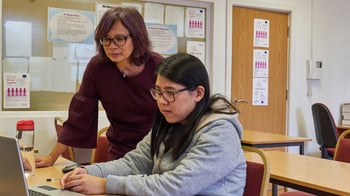 We then have more work to do in partnership with employers, government, community organizations, and community residents to bring living wages to the retail, food services, agriculture, healthcare, and other low-wage sectors. This is why Tamarack has partnered with public policy leaders and five communities across Canada to focus specifically on ending working poverty. We'll be sharing more about that work soon.
Excellent care and education for young people forges a path to a prosperous future for everyone. Ensuring that 55,000 education professionals in Ontario can earn a living wage is part of what it means to invest in youth futures.
So, let's ensure that educational workers – and all workers – do not work in poverty. Let's ensure instead that their incomes recognize their costs of living and their contributions to their communities.
Let's ensure that we do this in no small part because it is a gendered and racialized issue; jobs that don't pay living wages are more often done by people who are Black, Indigenous, Latinx, Asian, or multiracial people, who are also more likely to be women, transgendered, or non-binary. Having additional marginal identities increases the chances that a person experiences poverty, because of how we have structured our systems.
A living wage pays dividends for the education system, the education employees and the students and the province.
Ontario's 2022 Living Wage Rates
| | | |
| --- | --- | --- |
| 2021 Community | 2022 Region | 2022 Rate |
| Chatham–Kent | Southwest | $18.15 |
| Durham | East | $19.05 |
| Grey & Bruce | Grey Bruce Perth Huron Simcoe | $20.70 |
| Guelph & Wellington | Waterloo Dufferin Guelph-Wellington | $19.95 |
| Haldimand–Norfolk | Brant Niagara Haldimand Norfolk | $19.80 |
| Halton | GTA | $23.15 |
| Hamilton | Hamilton | $19.05 |
| Hastings & Prince Edward | East | $19.05 |
| Kingston | East | $19.05 |
| Leeds, Grenville, & Lanark | East | $19.05 |
| London & Middlesex | London Elgin Oxford | $18.05 |
| Muskoka | East | $19.05 |
| Niagara Region | Brant Niagara Haldimand Norfolk | $19.80 |
| Norththumberland | East | $19.05 |
| Ottawa | Ottawa | $19.60 |
| Peel Region | GTA | $23.15 |
| Perth & Huron | Grey Bruce Perth Huron Simcoe | $20.70 |
| Peterborough | East | $19.05 |
| Renfrew County | East | $19.05 |
| Sault Ste. Marie | North | $19.70 |
| Simcoe County | Grey Bruce Perth Huron Simcoe | $20.70 |
| St. Thomas & Elgin | London Elgin Oxford | $18.05 |
| Sudbury | North | $19.70 |
| Thunder Bay | North | $19.70 |
| Toronto | GTA | $23.15 |
| United Counties of Prescott & Russell | East | $19.05 |
| Waterloo Region | Dufferin Waterloo Guelph-Wellington | $19.95 |
| Windsor Essex | Southwest | $18.15 |
Republished from https://www.ontariolivingwage.ca/living_wage_week_2022 (accessed November 17, 2022)
Deepen Your Learning: