This blog post was co-written by Liz Weaver and Danya Pastuszek, co-CEOs of the Tamarack Institute.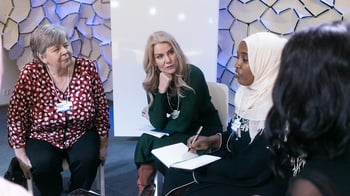 In January 2023, the Tamarack Institute was awarded with a Collective Social Innovation Award by the Schwab Foundation for Social Entrepreneurship at the World Economic Forum (WEF) Annual Meeting in Davos. The award recognizes that community change and achieving impact takes the focus and commitment of a wide range of partners working together toward a shared goal. We are grateful to Cathy Wright for nominating Tamarack and to Living SJ and the 12 other communities who shaped and tested Tamarack's framework for multi-sectoral collaboration that reduces poverty. The award is recognition for the outcomes-focused work of thousands of staff, volunteers, and community leaders from across sectors – past and present. And it is a call to offer collaborative, creative, and systems-oriented approaches to ending oppression and creating communities where everyone thrives.
Tamarack is one of sixteen awardees doing powerful work to reimagine innovation and system change around the world. Our network is recognized for collective social innovation, and other categories recognize social entrepreneurs, social innovators and intrapreneurs navigating change in government and business. Learn more about the awardees who are driving change and innovating here.
Awardees were invited to attend the World Economic Forum Annual Meeting in Davos. One of us (Liz) attended the meetings. What follows are her insights from the meeting, and our shared reflections on how they relate to the work of supporting communities to end poverty in its multiple forms.
Five Insights from the World Economic Forum 2023 Annual Meeting
Insight 1: Global risks are significant and interconnected
The 2023 Global Risks Report was released just prior to the World Economic Forum and set the context for the January meeting. The report highlights three urgent risks: the cost-of-living crisis, natural disasters and extreme weather events, and geo-economic confrontation. The report also provides a ten-year forecast of risks and names the dire consequences of failing to mitigate and adapt to climate change.
The report examines the interconnectedness of economic, environmental, societal, geopolitical, and technical realities. It describes the emergence of the term 'polycrisis,' where multiple pressures create parallel and competing crises. The geo-political crisis has exacerbated a cost-of-living crisis via disrupted supply chains and energy sources. The impacts of polycrises will be more severe in the countries most impacted by poverty and colonization. The report set a somber mood for the World Economic Forum annual meeting.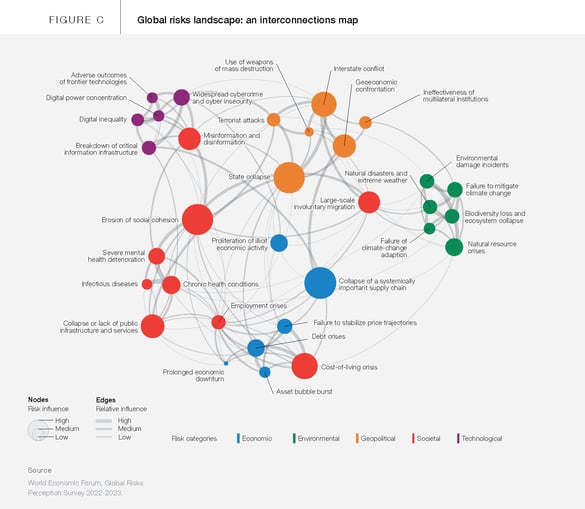 Source: The 2023 Global Risks Report. World Economic Forum.
Insight 2: Climate mitigation and adaptation requires urgent and determined action
Climate action is urgently needed. The report offers that, while cost of living is the dominant global risk over the next two years, climate action failure dominates the next decade. As one indicator, climate litigation is on the rise with more than 2,000 cases worldwide. (Seventy percent of cases are against projects and government, and 30 percent are against businesses. Litigation is a strategy to ensure that governments, projects, and businesses fulfill their climate obligations.) The panelists on climate at the World Economic Forum spoke with urgency and determination. We are at a critical juncture, and we must act now.
Insight 3: Environment, Social and Governance (ESG) is changing business
The meeting's theme was 'Cooperation in a Fragmented World'. One way to achieve the cooperation and alignment necessary to end poverty is to focus on the environmental, social, and governance (ESGs) priorities of businesses, government, and non-profits.
It's about aligning the whole enterprise. That will create a lot more action – how we purchase, how we consume energy, how we hire, how we promote, away from the classic 'philanthropy broadening into corporate governance' approach. That's the 70s and 80s. We are now in a different world, which is, you have to align the whole system to get the progress that society wants.

– Brian t. Moynihan, Chairman and Chief Executive Officer, Bank of America.
Source: Better business, World Economic Forum
Insight 4: Technology continues to shift the world
Artificial Intelligence, the metaverse, Chat GTP and other emerging technologies will continue to shift and shape our world. And social innovators are harnessing their power for social change. African Teen Geeks, WIEGO, Dimagi, ProjectTogether, and Platform Commons are inspiring us, using technology to bridge the divide and engage citizens and other actors in service of addressing complex community challenges.
Insight 5: Social Entrepreneurs and Innovators are an emerging bridge
The Schwab Foundation for Social Entrepreneurship celebrated its 25 Anniversary at the 2023 World Economic Forum Annual Meeting. During the last 25 years, the Foundation has recognized and validated the efforts of more than 400 individuals and organization. The social, economic and environmental impact of this network of social innovators is significant. The following graphic outlines the community's impact from 2019-2021: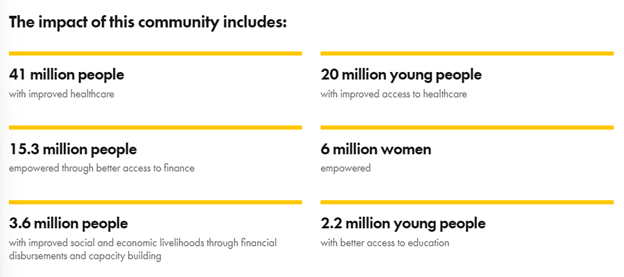 Source: About Our Impact. Schwab Institute.
Social innovators and entrepreneurs are a bridge between business, government, and community. The Schwab Foundation for Social Entrepreneurship acts as field catalyst by convening leaders across its network in the purposeful exchange of ideas. As well, the Foundation creates the platform for exchange with business and governments across the world.
Five Implications for Community Changemakers
As Co-CEOs at Tamarack, we would like to highlight some implications that we believe these insights have for community changemakers and for our contributions to change.
Implication 1: People, risks and outcomes are connected
Our interconnected economic, environmental, geo-political and social realities are felt locally, in communities. To navigate the 'polycrises' of rising disconnection and mistrust, rising inflation and cost of living, food insecurity, and climate events, all sectors will need to purposefully act together. As community changemakers, we need to engage in future thinking, strategic foresight, and connecting with each other to navigate the many crises that are impacting communities. We need to recognize that racism, colonization, and other forms of oppression are at the roots of our urgent, interconnected crises. We need to take specific, measurable actions to create governance structures that include all sectors and share power with people with lived experiences. Via those governance structures, we need to create and act on plans whose strategies address economic, racial, gender, and climate injustice simultaneously. We need to ensure that our vast assets are distributed equitably across the amazing people who comprise communities.
At Tamarack, we're on a journey to step more boldly into advancing public policy that does these things, by joining into existing efforts and by creating national collaboratives that move forward the specific priorities of communities in the Tamarack network. We're continuing to understand, amplify, and work to scale collaborative governance structures. We're grateful to communities that are working on poverty, climate justice, education, and social connection as the interconnected issues that they are.
Implication 2: To achieve just climate transitions, we need communities
Climate change is here, and it is urgent that we not only adapt to it, but that we advocate for the policy and practice changes that will mitigate its catastrophic impacts, especially for those who are already disproportionately affected. Extreme weather events are happening daily across the globe. They disproportionately impact people already experiencing poverty, Indigenous and racialized communities, and members of other equity-deserving groups.
Focusing on just climate transitions is an imperative, and we urgently need individual and collective action that's anchored in the needs of those most impacted by climate change. We must continue to support communities to design comprehensive poverty reduction and climate plans that center the strategies like low-carbon, active and public transportation; retrofits targeting households impacted by poverty; and living wage jobs in sectors and organizations that are accountable to just transition goals.
Implication 3: We need all sectors to step into the 'social'
More and more companies are holding themselves accountable to generating value for all of groups that they rely upon – not just shareholders. This is due to decades of advocacy, and we are grateful to all of the advocates, past and present. Within the Environmental, Social and Governance (ESG) conversation, social priorities are emerging - but we need more. In Davos, while there were sessions focused on living wage, cost of living, and our inadequate social safety net, these conversations were wedged between many others. As businesses face 'quiet quitting' and shifting demands in the workplace, we see opportunities to engage social entrepreneurs and innovators and to collectively design new solutions.
At Tamarack, we are bringing communities together to create the resources and the will for living wages and decent work. We are drawing together federal, provincial, municipal and community-led poverty reduction advisories to explore further alignment. We are learning from the ways that local governments are stepping into social roles.
Implication 4: Technology investments are critical to equitable outcomes
When COVID19 shuttered the doors of office buildings, schools, and many of the locations where we are accustomed to accessing goods and services, we were once again confronted with how inequitably access to technology is. There are existing and emerging technologies which are shifting access and including populations previously excluded from programs and services. Technology could be designed from the start to address digital, education, health, and other inequities. It could be designed to amplify facts about the resilience, strength and contributions of equity-seeking groups. It could produce data that reveals the failures of our current systems and that is an asset to the people represented in it. In Canada, investment in technology advances for community change is fragmented, and it doesn't have to be.
We're grateful to NTEN, SETSI, and Imagine Canada for co-founding with us the Canadian Centre for Nonprofit Digital Resilience and to its 200 advisors from across the non profit, philanthropic, government, and technology sectors. Let's continue to support sector leadership and investment to build the capacity of non profits and non profit professionals for digital transformation.
Implication 5: Social innovation is achieving collective impacts
Many social innovators are designing for a more equitable world by addressing economic, social, environmental, employment, health, and systemic barriers. The Punjab Education Collective is transforming the public education system of the state of Punjab, India and improving educational outcomes through co-creation processes. Greyston is pioneering "open hiring," to connect individuals facing systemic barriers to meaningful employment by offering work with no interviews, no background checks and no resumes. Here in Canada, Social Innovation Canada is connecting social innovation practitioners, building the capacity of the sector, and elevating the work in Canada and beyond, and the recently announced Social Innovation Advisory Council will provide advice and experience to the Government of Canada.
Along with many other national, regional, and local partners, Tamarack is honored to host gatherings, trainings, coaching, and networking that support social innovators who are asking answering the "what if," "why not," and "how can what's needed get done" questions. And to connect social innovators with business, government, technology, and political leaders, creating the conditions for further innovation to emerge and to scale.
We are honored to join this global network and will committed to sharing reflections, learning and opportunities with changemakers around the globe. As well, we're committed to understanding, amplifying and supporting the spread of communities' approaches to making meaning and action of these insights and others that will emerge.
To Learn More: