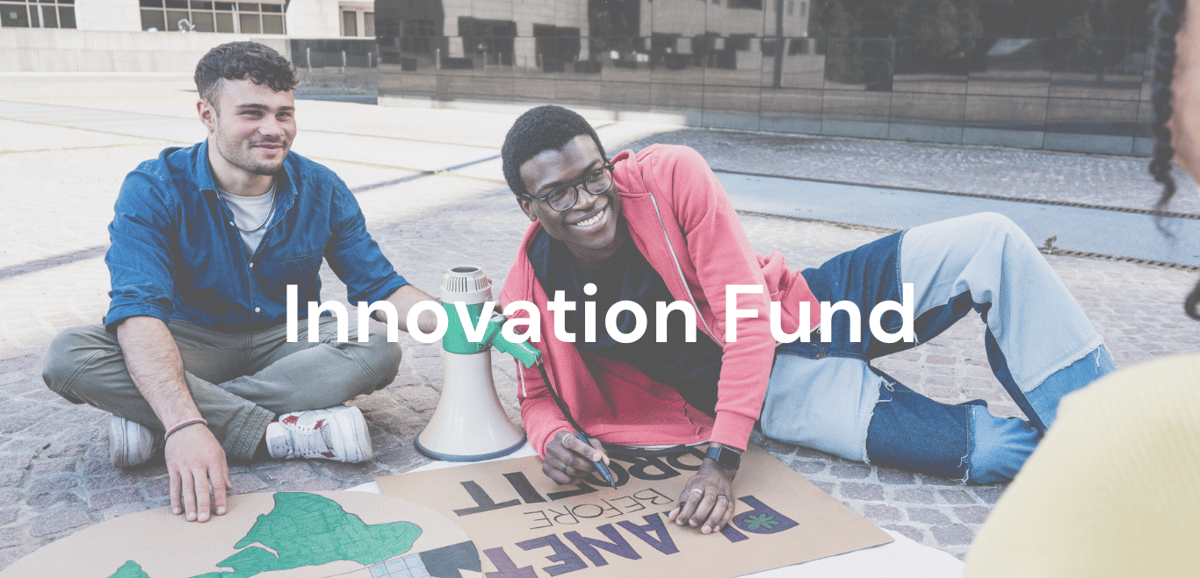 This resource is also available in French. Click here to access the French version.

This past summer, we introduced the Community Climate Transitions (CCT) Innovation Fund to support place-based climate action that is equitable, inclusive, resident-led and grounded in multi-sector partnerships. Made possible thanks to our partners at Definity Insurance Foundation, the CCT Innovation Fund seeks to support members of the network to prototype niche innovations and nudge systems by affecting policies, practices, resource flows, relationships, power dynamics and mental models.
We recognize that no one innovation can achieve systemic change, but if other local interventions are pointed at the same goal, an innovation can have a transformative impact. Thus, we sought out projects with high potential to catalyze further change. We also see Innovation Fund grants as just one strategy to support members in their community change journeys, alongside coaching, convening, connecting, creating, challenging and celebrating.
For this first round of funding, we were looking to support four projects at the seed level ($2k each), one at the sprouting level ($5k) and one at the scaling level ($10k). We received 54 applications, showing tremendous need for this type of funding and support. The CCT team worked alongside our Advisory Group members to select the most promising projects.

The six projects selected for Round 1 Innovation Fund grants are as follows:


Scaling grant
AHMA's Climate Resiliency Project aims to help Indigenous non-profit housing and service providers adapt to climate change by integrating climate resilience best practices into their asset management plans. By incorporating resilience into their existing Asset Care Program, AHMA will support its members to have more equitable access to leading energy and emergency response management practices, thus prolonging the service life of buildings and their systems, improving access to energy retrofit and climate adaptation funding, and reducing extreme weather events' impacts and recovery time.
The project represents a "for Indigenous by Indigenous" approach to reconciliation and sustainable development. The updated asset care documents and virtual training will be distributed to all AHMA's 55 Indigenous housing and service providers, representing over 5,500 units that provide homes to an estimated 10k Indigenous individuals and families living in urban, rural and northern regions of BC.
Sprouting grant
CREW, a project on MakeWay's shared platform, and Toronto Environmental Alliance (TEA) are working to increase climate awareness and preparedness in high-density, urban neighbourhoods. Through this project, they will create a leadership hub at a TCH building in St. James Town, a neighbourhood that is densely populated, ethnically and linguistically diverse, and where one third of residents are experiencing poverty.
Partners will train and support local volunteer leaders and high-rise residents to lead community outreach during heatwaves, storms, and other extreme weather events to prevent illnesses and deaths. Outcomes include: 10 trained resident volunteers have identified 'floor captains' for each of the 23 floors, four train-the-trainer workshops are delivered for new floor captains, and stories and lessons are captured to serve as a model for scaling the project in the city and beyond.


Seed grants
This neighbourhood level climate resiliency project focuses on strengthening community relationships and providing pathways for residents to take grassroots action. Earlier this year, Environment Lethbridge hosted a series of climate cafés as a pilot to gauge community members' interest in coming together to share and problem solve around climate adaptation and resilience.
This seed grant will support them to expand the climate café model to foster community connections, host pop-up engagements with key local organizations and facilitate grassroots action though micro-projects such as Little Seed Libraries, traditional food gardens or urban tree planting. Using GIS mapping data (both environmental and socio-economic) and qualitative data from partner organizations, the project will identify under-served and equity-deserving neighbourhoods and target their support to these areas.
4. GRAME, Lachine Montreal QC | Tiohtià:ke
This grant will support GRAME's efforts to create an inclusive and fully accessible space for Lachine residents to come together and collaborate towards a socio-ecological transition. The civic space (l'Espace pour la transition socioécologique de Lachine) seeks to expand and empower the web of eco-citizens in Lachine, strengthen the borough's social fabric and sense of belonging, encourage residents to adopt environmentally responsible practices, and support the population in the event of severe climatic events.
This project builds off the success of GRAME's existing programming – environmental education, waste management, eco-neighbourhoods and greening – and network of community partners in bringing together diverse community members and supporting resident-led action.
5. HRM Community Climate Transitions team, Halifax Regional Municipality NS | Kjipuktuk
Building off their engagement in Tamarack's Climate Transitions Cohort, a group of partners across Halifax (The OATHE Project, Ecology Action Centre, HCi3, EarthNet, and allies) are collaborating to address a critical gap they have identified: a lack of awareness of climate stakeholders, action, and needs in the region.
Inspired by work done by fellow Cohort members in Toronto, the team aims to develop an ecosystem map for Kjipuktuk (Halifax) that offers insights into the network of local climate actors, and their areas of focus and geographic presence. The project aims to develop an inclusive and dynamic tool that encourages informed decision-making, cultivates partnerships, minimizes duplication, and accelerates equitable climate solutions and resilience throughout the municipality.
6. Women Transforming Cities (WTC), Metro Vancouver BC | Unceded territories of the xʷməθkʷəy̓əm (Musqueam), Sḵwx̱wú7mesh (Squamish), and səlilwətaɬ (Tsleil-Waututh) Nations
WTC aims to accelerate collaboration, knowledge sharing and a sense of cohesion amongst groups working on heat preparedness in Metro Vancouver. This project will map key community organizations and leaders working on heat preparedness in Vancouver and conduct community outreach and engagement to better understand the current approaches, resources, gaps, policy proposals, and advocacy efforts to prevent heat-related deaths.
The team will identify which interventions have the highest structural potential to save lives during heat events and share findings with partner organizations, community members and those leading heat responses. WTC's work is grounded in intersectional feminism, and an anti-racism, anti-colonial, anti-oppressive and disability justice lens is applied to all its work.


What's next for the CCT Innovation Fund?
We will be celebrating these projects and hearing from many of the recipients at our upcoming annual gathering Communities Taking Climate Action: Leading Courageously so join us to learn more. We will also be showcasing the impacts and lessons learned from the projects in blogs, case studies, webinars and community of practice calls for members and learners.
Subscribe to our newsletter to stay informed of future opportunities to apply for support via the CCT Innovation Fund.