Together with Mayor Fred Eisenberger's Office, the City of Hamilton and Hamilton

Roundtable for Poverty Reduction, Tamarack's Vibrant Communities Canada hosted its third annual summit, Cities Reducing Poverty: When Business is Engaged, at the Hamilton Convention Centre from April 4-6, 2017.
Over the three days, more than 300 delegates representing business, government, lived experience, and the community sector, came together to share stories about their local progress and innovations, learn about the federal government's efforts to tackle poverty, and deepen their understanding about the fundamental role that business can (and should) play in eliminating poverty.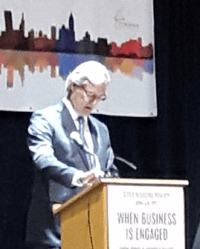 The summit came to life through the powerful and inspiring teachings of 36 plenary speakers and 65 experienced, knowledgeable workshop leaders. Keynote speakers included: The Honourable Chris Ballard, Minister Responsible for the Poverty Reduction Strategy; Alan Broadbent, CEO of the Avana Capital Corporation; Renu Manhane, Chief Commissioner of the Ontario Human Rights Commission; Colette Murphy, Executive Director of Atkinson Foundation; David Alston, Chief Entrepreneur in Residence with the Government of New Brunswick; Michael McCain, President and CEO of Maple Leaf Foods, and Mark Chamberlain, President and CEO of PV Labs. Click here to listen to Michael McCain's speech "Food Security: It's Time to Act".
Skillfully moderated panel sessions allowed the audience to explore avenues for poverty reduction from the viewpoints of business leaders, mayors, basic income and human rights policy experts, and individuals with lived experience of poverty. Click here to watch the conversation between Penni Eisenhaur, Hilary Chapple, Yvonne Maracle and Parliamentary Secretary Adam Vaughan.
A series of 21 peer-led workshops also gave delegates the opportunity to dive deeper into poverty related topics like Human Rights, Living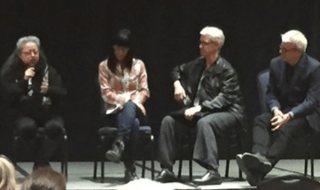 Wage, Engaging Business, Alternatives to Predatory Lending, Financial Empowerment, Storytelling with Purpose, Decent Work, the Role of Social Enterprise, Mobilizing Action through Community Engagement, Campus-Community Partnerships, and Indigenous Realities. You can access the workshop presentations here.
Experiential bus tours also gave delegates the chance to learn about how local agencies are addressing poverty in Hamilton. Tour venues included the McQuestern Urban Farm, Circuit 4.0, Xperience Annex, the Threshold School of Building and City Housing, Eva Rothwell Centre, Mohawk City School and the Indigenous Gathering Place at Mohawk College, among others. Some lucky delegates also got to experience a Sobi bicycle tour through some of Hamilton's most notable neighbourhoods; while others experienced a poverty simulation based on the social determinants of health and attended a neighbourhood action planning workshop. Check out the #CRPSummit social media story for tour highlights and photos.
Another highlight at the event was the release of Vibrant Communities Canada's latest publication, TEN: A Guide for Businesses Reducing Poverty, which includes ten good ideas on how businesses can contribute to poverty reduction, a self-assessment, and ten tips for getting started. Each good idea comes with a case study to show how business leaders and their colleagues are having success in improving lives and community conditions nationwide. Download your copy of TEN: A Guide for Cities Reducing Poverty.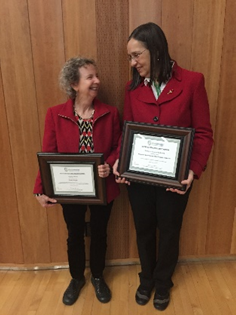 Vibrant Communities Canada was also pleased to recognize deserving champions' outstanding poverty reduction efforts this year through an awards ceremony. The awards committee selected the following winners: Leadership in Advancing Poverty Reduction - Hamilton Roundtable for Poverty Reduction; Game Changer Innovation - BC Living Wage for Families Campaign; Business Champion - the Business Community Anti-Poverty Initiative of Saint John; Engaging People with Lived Experience - Saskatoon Poverty Reduction Partnership; Outstanding Contribution to the Vibrant Communities Canada learning community - Adam Vasey, former Director of Pathway to Potential Windsor-Essex; and, Legacy Award - Cathy Wright, former Executive Director of Living SJ.
The Vibrant Communities Canada team would like to extend a huge thank you to our event co-hosts, sponsors, partners, members, delegates and colleagues for their incredible contributions to this year's Summit. We couldn't do it without you. As we continue our hard work, we are inspired by delegate Scott Cronkwright's powerful message of experience: "If we chase amazing, amazing chases us… you have saved a life, you have saved a family, and created a legacy. Thank you for the work that you do." You can read Scott's personal story here.
Learn More: