Cities Are Reducing Poverty
BY: NATASHA PEI
2020 has been an undeniably tough year for people around the world. Yet, there have also been glimmers of positive news that give us hope. In February, Statistics Canada released data indicating that poverty has ended for over 1 million Canadians. Major accomplishments like this are achieved through the accumulation of many large-and-small incremental changes over years. This report provides just a snapshot of what we knew about poverty and poverty reduction at the beginning of 2020.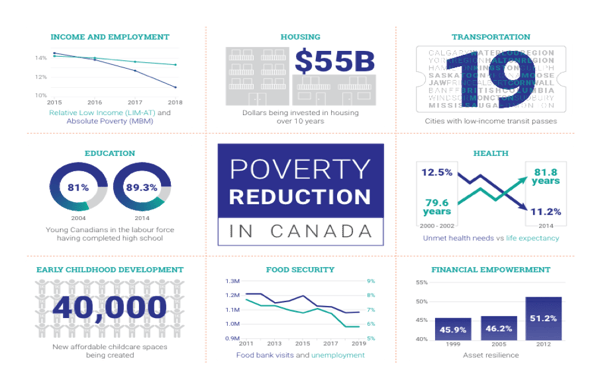 Vibrant Communities - Cities Reducing Poverty's 2020 Impact Report celebrates this major milestone in the fight to end poverty and provides a snapshot of how CRP members are making significant contributions towards this achievement, as well as several other major systems changes and population-level impacts on poverty through collaborations and upstream innovations. Below are just a few highlights from the network exemplifying the great work being done by 80+ local collaboratives tackling poverty:
Bridging communication between sectors and addressing gaps | Winnipeg's Poverty Reduction Council is bridging relationships between non-profit community job trainers, youth and businesses in order to increase job opportunities for Indigenous youth job seekers. The WPRC also encourages safe job experiences by educating corporate management about Indigenous history and its legacy, supporting management to educate their workforces about Indigenous history and its legacy, and to develop anti-racism and cultural safety practices. In 2019, seven companies reached out to an Indigenous employment company; three reached out to individual Indigenous job seekers; three added or changed an Human Resource practice or policy to support Indigenous engagement; one reported an increase in Indigenous candidates applying for jobs; and four companies engaged nine Indigenous job seekers for a job, internship, job shadowing or term position.
Introducing subsidies that ease the cost of living burden |The City of Edmonton introduced a Ride Transit low-income transit pass and expanded eligibility from 10% to 25% above the Low Income Cut Off (LICO), now benefitting 66,000 Edmontonians. The pass increases the access of adults and youth to the transit system, to employment opportunities, and to recreational activities, and reduces isolation and stress. Respondents from a 2018 evaluation study said that they no longer had to choose between food, rent and the bus.
VC-CRP's 2020 Impact Report includes these and many more inspirational examples of successful, innovative actions that Cities Reducing Poverty members are undertaking under eight domains: Income and Employment, Housing, Transportation, Education, Health, Early Childhood Development, Food and Financial Empowerment.
Learn more:
Share this article: