Co-Design: A Necessary Skillset for Community-Led Development
BY: LISA ATTYGALLE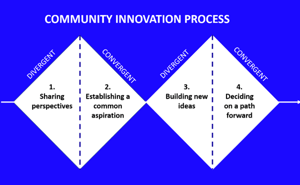 'For the community, by the community' is the rally cry for community-led development – where those who are most impacted are involved in developing solutions for their own future.
This intention is crystal clear. The question we are asked is—how do you do it?
Co-Design is a methodology for bringing diverse members of your community together to develop creative new ideas, design innovative approaches to persistent problems, and build alignment and momentum for action.
We see co-design at the intersection of innovation and community engagement, and it requires us to push past default practices—of developing solutions in isolation, or consulting with the community on pre-determined solutions—and instead bring the community into a collaborative ideation process.
Understanding how to facilitate a co-design session is an important skillset. It involves:
Understanding the co-design approach: 1) Sharing diverse perspectives; 2)

Establishing a common aspiration; 3) Building new ideas; and, 4) Deciding on a path forward.

Designing the session to suit the needs of the community and include activities and discussions that will help you achieve the session goals

Determining who needs to be involved and inviting the community into shared ownership

Effective facilitation and ability to navigate session conflicts respectfully
When done well, a co-design process helps to align diverse perspectives, combats polarization, produces creative and customized solutions that are pre-vetted for success by community members, provides community ownership, builds trusting relationships, and increases the community's capacity to understand, brainstorm, and mobilize.
Tamarack is excited to be hosting Co-Design: A How-To Workshop for Facilitating Community-Led Innovation on March 4-5, 2020 in Toronto. This workshop will give you the tools and practice to host and lead these collaborative co-design sessions effectively. We will go deep on different approaches to engage the community to innovate together, understand what makes these kinds of gatherings distinct, and provide you with tools that you can use to host them.
Want to build your co-design skillset? Join us!
Take Your Learning Further:
Share this article: