Five Questions to Ask and Answer When Practicing Community Engagement
BY: ALISON GOLD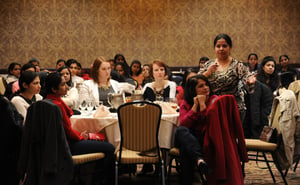 I think there are a lot of reasons that community engagement is a popular topic at the moment, but one of my biggest hypotheses is that there are a number of established organizations in the nonprofit sector, philanthropy, health care, higher education, and government who have been treating the work of community engagement as activity-driven and transactional for decades. They are starting to realize―because of the demands of their funders and the frustration of the communities they work with who are fed up with being "acted upon"―that they need to change their approach to one that is purpose-driven and intentional if they are going to be able to make progress.  However, many of these organizations do not know how to start to make that change.
Over the last seven months, my colleague and collaborator, Alice Chen of Wayfinding Wisdom, and I have been working with one such organization and its partners across the country to understand how they approach community engagement in their work, and what they felt they needed to do it more effectively. From what we learned, we developed an introductory curriculum focused on building a community engagement mindset that can be adapted for different contexts. As part of the curriculum, we developed this set of strategic questions to ask and answer when practicing community engagement, especially if you seek to do the work in an intentional, strategic, and positively impactful way.

1. What is your organizational mission, and how might Community Engagement help you achieve it?
One of the things that comes up over-and-over again in discussions of community engagement is that people see it as work "in addition" or "on top of" the work they are already doing, not as a way to do their work. To flip that way of thinking, start from what your organization is about and what assets it already has―what is your mission, vision, theory of change, programs, policies, cultures, staff, relationships―and how might engaging "the community" help you to achieve your mission?

2. What is your Community Engagement purpose?
Think of the community engagement purpose as having ARMS – it needs to be achievable, relevant, measurable, and specific. A key part of having ARMS is being able to name the specific group that you aim to benefit through your community engagement purpose and how you aim to benefit them. 
For instance, an organization which is focused on child health might have a community engagement purpose of ensuring that all second graders in Townville are getting thirty minutes of physical activity a day. There are many ways that this purpose can be achieved – through school policy, working directly with caregivers, after school programs, and more. But, identifying the strategies that will help the child health organization achieve its purpose will require engaging individuals and organizations in different ways until they learn into the solutions.

3. Who are the other actors you might engage to achieve your purpose?
Part of building a community engagement mindset is taking the time to create a living and evolving map of who the other actors are that connect to your community engagement purpose and/or core population. It might seem overwhelming, but if you cross-reference the organizations on your actor map with the existing relationships you identified your organization having as part of question one, you've probably identified a good place to start your outreach.

4. How and why are you engaging other actors?
This is a big one! There are a range of approaches and tactics for community engagement ranging from informing people about what's going on to collaborating to work together to even engaging your core population with the goal that they "own" the work. To go deeper, I recommend you take a look at Tamarack's adapted Community Engagement Continuum, as well as a very practical index of community engagement techniques that is organized by level of engagement.
5. What are your organization's principles and values for doing Community Engagement work?
In community engagement, there is what you're going to do, and then there is how you are going to do it. An organization's values and the way it makes those values actionable (principles) are as important and foundational for what you are trying to achieve. I want to point you to Elevated Chicago!'s recently released Community Engagement Principles and Recommendations as an excellent example of translating values (in their case around racial and socio-economic equity) into a set of principles for action.
Alison Gold is founder of Optimistic Anthropolgy, whose mission is to work with individuals, organizations, and cross-sector collaborations to build their knowledge, process, and culture to make a more positive future for all people.

Learn More:
Share this article: