About Cities Reducing Poverty
Vibrant Communities Canada - Cities Reducing Poverty is a collective impact movement aimed at reducing poverty for 1 million Canadians through the efforts of local multi-sector roundtables and the alignment of poverty reduction strategies at the local, municipal, provincial and federal levels. Every year, more cities join this pan-Canadian initiative, helping to strengthen a networked learning community of over 100 cities working to reduce and eradicate poverty.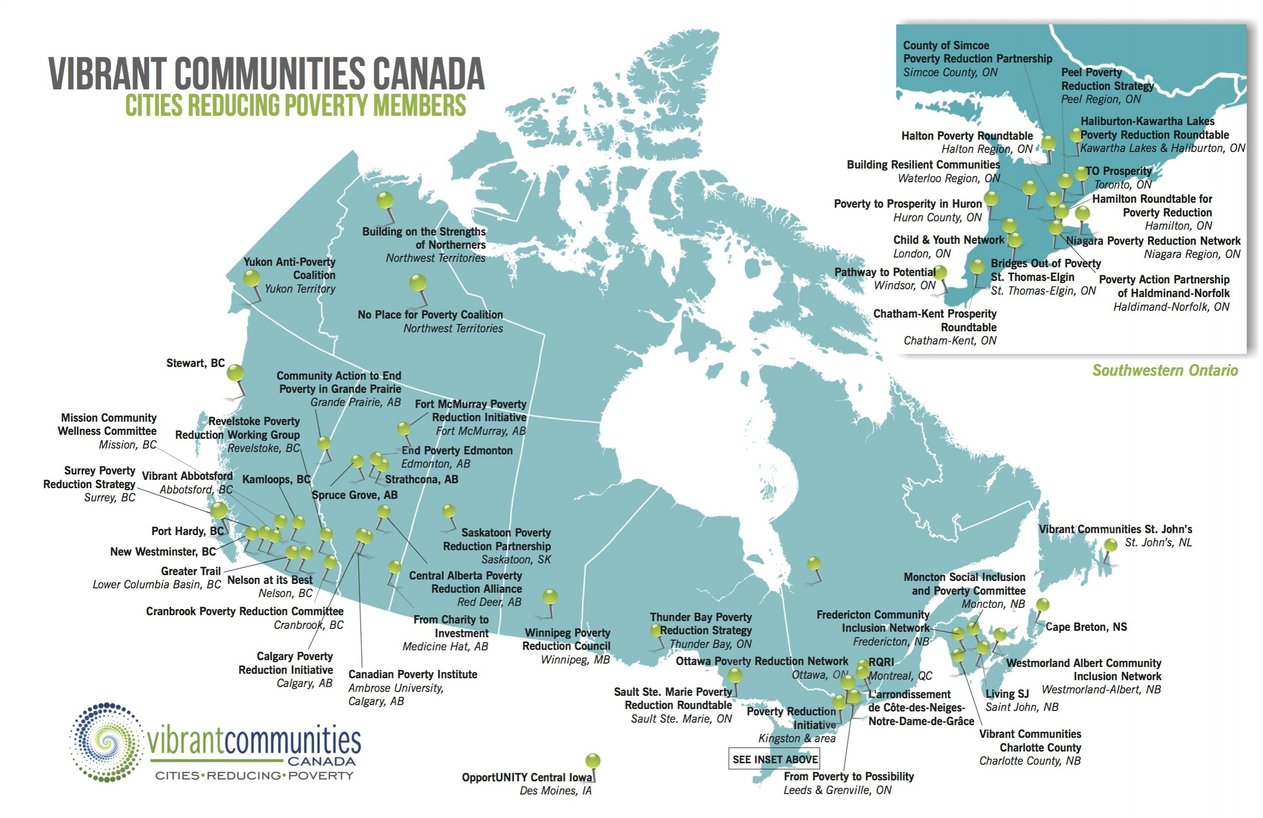 Join the Movement
Vibrant Communities Canada's primary purpose is to help local poverty reduction initiatives in cities, towns, regions, provinces and territories increase their capacity and their efforts to be successful. We do this by offering an annual, renewable membership to a peer learning community tailored to locally-based multi-sectoral poverty reduction initiatives with roundtables or strategies. Members are given opportunities to:
Connect and Engage with experts and municipal and community leaders from local poverty reduction strategies and roundtables across Canada though regular online and face to face meetings and online learning community at www.vibrantcanada.ca.


Learn together about innovative and effective tools, approaches and ideas for tackling poverty through communities of practice, action teams, webinars, a common evaluation framework, an annual national poverty reduction summit, and peer or professional coaching. We are especially committed to co-generating learning opportunities with our member communities.


Influence policies and systems that matter to your community by engaging in action teams, accessing our policy clearing house and publications, as well as participating in discussions within a growing national network of cities with a notable history and a credible voice.
Benefits of Membership
Here are some of the benefits that you will experience as a member:
Two complimentary passes to the annual poverty reduction summit ($1360 value)
Matching coaching credits to hire professional or peer coaches recommended by Tamarack, or identified in your community
Access to exclusive, nationwide city convenor calls with roundtable leaders and staff
Annual subscription to Cities Connect e-magazine for poverty reduction practitioners
Participation in Vibrant Communities Canada's shared evaluation process and access to evaluation support from Vibrant Communities Canada staff
Access to policy tools, publications, and online resources including a policy clearing house
Access to resource development opportunities and tools to build and sustain your financial health
Access to monthly webinars about various poverty reduction models approaches, successful initiatives in the areas of affordable housing, public transportation, income and jobs, food security, early childhood learning, and more.
Participation in professional community of practice and action team calls focused on poverty reduction related topics (e.g. Evaluation, Municipal Policy, Indigenous Approaches, Human Rights, and more)
Discounts for your roundtable members to attend Tamarack learning events
Discounts on books and other resources (at cost and often free)
Unlimited access to vibrantcanada.ca, an interactive learning website where your initiative and its news will be profiled
Still have questions?
Email our Manager of Cities, Kirsti Battista at kirsti@tamarackcommunity.ca