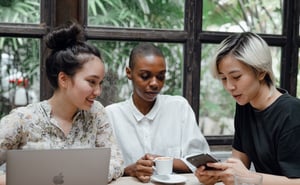 Having closely monitored the impacts of COVID-19 on the Canadian labour market, Statistics Canada announced in March 2020 that employment in Canada fell by more than 1 million, with the fastest rate of decline across age groups being young people aged 15 to 24.
Approximately 20% of employed young people lost all or most of their work hours. At a rate of 16.8%, youth unemployment in March 2020 is the highest it has ever in the past 20 years (Statscan, 2020).
This summer, considering the current COVID-19 crisis, the number of jobs and internships available for young people will significantly decrease in comparison to previous years. In some cases, the jobs themselves will look very different as social distancing continues to impact the labour market. With fewer physical job opportunities for youth, this is an opportunity for employers to tap into the virtual workforce. To prepare young people for the future of work, Canadian Council for Youth Prosperity partnered with Tamarack Institute to produce Virtual Work is Here: A Guide for Youth.
This guide seeks to give youth, the people that employ them, and the people that seek to support them, a toolkit for how to grow within a team, how to make the best of the skills they build, and how to navigate and support a new career, all virtually. It also seeks to begin a conversation in the virtual work, mentorship, and career development space.
Virtual Work is Here: A Guide for Youth
Developed in collaboration with youth, for youth, this free, interactive guide is full of tips and resources:
Finding virtual work

Preparing for your first virtual job

Understanding virtual Human Resource practices

Creating your virtual

workspace

Finding virtual work mentors
Join us on July 22nd for a webinar where we'll learn from two young people about why the virtual workforce will be an important space for youth, and how young people are using this guide to prepare for virtual work. We hope this guide will be an opportunity for youth and employers alike to turn the COVID-19 challenge into an opportunity to create adaptive work environments.
Take your Learning Further