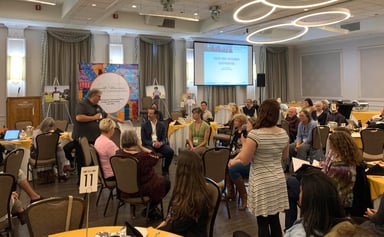 In 2019, the Cities Reducing Poverty network grew to 80 cities and communities across Canada and the USA, all committed to local poverty reduction efforts. Even more heartening is to see that this expanding movement is having an impact – we are seeing population-level changes in poverty rates and food security at national, regional and local levels. Coupled with several positive policy announcements, these trends indicate that despite the stubborn nature of poverty, we are moving in the right direction.
Enjoy the top 10 news stories and popular learning resources from 2019.
What We Are Talking About: Popular News Stories in 2019
What We Are Learning: Popular CRP Resources in 2019
Ever wonder what resources are proving most useful to poverty reduction collaboratives? Below, we have summed up the top reads and shared resources this past year. Consider whether one or two of these short publications may be helpful in your work too.
Take Your Learning Further
SUMMIT | The End of Poverty - Governments, groups and individuals across Canada and the US will come together in a monumental way from October 14-16, 2020 in Calgary, Alberta. Learn, share, and be inspired by the national network of cities and communities reducing poverty locally. Join us there – Sign up to receive event information.