10 Ideas for a Community-Based COVID-19 Recovery
BY: LISA ATTYGALLE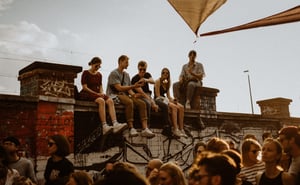 As cities respond and recover from the COVID-19 pandemic, there is an opportunity to build back better—to center recovery efforts on improving the outcomes for our most vulnerable citizens, our civic life, and our planet.
These 10 Ideas were co-created by thought leaders and staff, and form part of a larger guide showcasing ideas, stories and resources for engaging the whole community through COVID-19 to work together for collective impact.
The full guide 10: A Collective Impact Guide for a Community-Based COVID-19 Recovery will be released later in the Fall.
1. Don't let this crisis go to waste!
This pandemic shook the foundations of society. In environments that are traditionally slow-moving and bureaucratic, we have proven that we have the capacity for action, that immediate responses are possible, and that we can quickly pilot promising ideas and pivot our work to respond to community needs.
2. Harness this opportunity for a Just Recovery
Let's do more than recover. We can address the deep disparities of equity and race, end poverty, combat climate change, and address loneliness and isolation. Let's be aspirational rather than return to the status quo that did not work for most people and our environment. Use this momentum to ensure diverse representation—centering the voices of lived experience including Black, Indigenous, People of Colour, and Youth—in the conversations that are had and when rebuilding our cities' structures.
3. Take a learning approach to adapt and respond to emergent change
The COVID-19 pandemic is proving to be a long emergency. In emergent situations we need to learn as we go. We need to take in information from our global community to learn from what is happening 'out there' and combine that with our shared local knowledge of what is needed 'right here'. Once we have responded, we need to turn and learn from our actions—what happened, what else is needed, what should we do differently? Working in emergence might be a new skill set that needs to be developed.
4. Engage your community in dialogue to reflect and learn
Spend time talking with your community to learn about how they have been personally impacted during the pandemic. Hearing personal stories connects us to issues and to each other in a way that is more meaningful than data alone. Engaging in dialogue allows for reflection, learning, relationship-building, connection, solidarity, and mutual support. Create space for community members to offer insights and solutions.
5. Support and Mobilize Citizen Action
As we create plans for building civic life through COVID-19, consider ways that we might harness community activity. How can we create space for community members to share their ideas and time? How can we support citizen action? So often when planning from a central place—like city government—we are trying to "do for" the citizens of a community. Instead, consider strategies that "do with" citizens, or better yet, create spaces and encourage ideas from neighbourhoods so that they are empowered to "do on their own".
We can have a central plan that is implemented in a decentralized way. By supporting and mobilizing citizen action we build social capital and human capacity which are valued assets both during a pandemic and in pursuit of a sustainable city.
6. Re-imagine and diversify how we communicate
Take stock of all of the new ways we connect with each other and how quickly these changes happened: Workplaces became remote, community members are using social media and community platforms to mobilize, family and friends are connecting through virtual meetups, and services that were purely offered in-person are now online.
7. Build on the shifting worldviews
Build on the shifting worldviews that the pandemic has created and consider the policy changes that were quickly implemented during COVID-19. Advocate for making these "pilot" changes permanent. How might we debrief the people of our community to understand the changing mindsets that arose during the pandemic? How do we hold on to the empathy that was shared and the ensuing policies that evoked shared responsibility?
8. Take a strength-based and human-centered approach
Build upon your community's assets. Consider the notion of radical localism in order to build a circular economy that addresses interconnected issues such as poverty and climate change. Think of neighbourhoods as local circular economies—sourcing what we can at a neighbourhood level, supporting local businesses, employing local people. Radical localism is also about solving local problems with local solutions, empowering those closest to the issues to share their knowledge and work together to leverage community assets.
9. Reinforce collaboration over competition. Embrace a collective impact approach.
Collective Impact uses the support of a backbone infrastructure to help many people to work together toward a common agenda. This approach is used to address complex and stubborn community issues by enabling large-scale systems change. With a common agenda comes a shared measurement of those things we really want to see changed. Through mutually reinforcing activities and continuous communication, communities can work together aligning government, business, charities and the needs of citizen action groups toward a collective outcome.
10. Consider the Citizen role Preparing for Future Emergencies
During the COVID-19 crisis we seldom relied on institutions or formal systems to support us where we lived. They were on standby in case of an acute crisis to offer shelter, food, or care, but for the majority of people it was neighbours and family members that went grocery shopping for those in need. Friends united to combat loneliness, to help people make sense of what was going on, and to encourage each other to stay true. It was a sense of citizenship (with good advice from the institutional experts) that kept people at home.
Learn More:
Share this article: