The Art and Science of Partnership Brokering

BY: Liz Weaver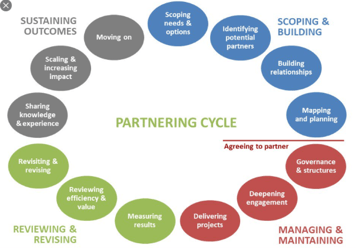 I have worked with partners all my life. I have engaged them to co-create futures. But spending a week immersed in the art and science of Partnership Brokering, has changed my perspectives about building strategic partnerships. I've also come to the realization that not everything has to be a partnership, in fact, partnerships, like so many other engagement activities, happen on a spectrum but the more intention that you put into this strategic relationship, the more both parties or all parties will benefit. So, let's dig into the art and science of Partnership Brokering.
The Art of Partnering:
It all starts with creating the frame and picture of partnering. At the core are five principles for good partnering practice including:
Relishing diversity which leads to new value
Building equity which leads to respect
Being open which leads to trust
Ensuring mutual benefit which leads to commitment
Being courageous which leads to breakthrough results
As someone engaged in partnering, you must welcome difference, engage voices, and then be honest about what you bring to the work and some of the constraints and risks that might be embedded in the process of partnering.
Partnering comes in many different forms including engagement, agreement, consultation, capacity building and can be both short term or long term. The term 'fit for purpose' really applies. It asks the partners to consider the nature and resources required to effectively manage this relationship.
In these ways, understanding local context, building and framing, negotiating across partners and engaging voices creates the picture of partnering. Each case will be unique and nuanced. You may bring your past experience of partnership development forward, but also acknowledge that one size does not fit all. Context matters.
In many ways, the art of partnership brokering is focused on relationship management, trust, operating with a core set of values in play and navigating the local and partnership context. It is about understanding complexity and building a skill set and practice that will help you navigate this complexity effectively.
The Science of Partnering:
Equally, I learned that there is a defined practice around partnership brokering. The Partnership Brokers Association (PBA) identifies 10 practices:
Keep up to date with new developments in the theory and practice of brokering multi-stakeholder partnerships
Be reflective and strive for diversity, equity, openness, mutual benefit and courageous practice when operating in a partnership brokering role, modelling this behaviour to partners
Be prepared to challenge assumptions and poor partnering behaviour at any stage of the partnering cycle in ways most likely to bring about constructive change
Take every opportunity to build partnering and partnership brokering capacity in others
Share knowledge generously and don't hold onto knowledge for personal aggrandizement or gain
Explore any available alternative approaches before promoting a partnership process, in a commitment to achieving the best possible outcomes
Be open about risks and seek prior endorsement of those most likely to be affected by them before taking actions that might entail such risks
Be an ethical and responsible practitioner by raising concerns about the partnership or actions of individual partners
Acknowledge competence limitations and be open to requesting assistance from others who bring complementary skills or different approaches to the task
Be willing to let go and hand over the partnership brokering role when the time is right
In addition, there is a partner brokering cycle which has four phases: scoping and building the partnership; managing and maintaining the partnership; reviewing and revising the partnership and finally sustaining outcomes or ending the partnership.
Also included in the science of partnering is a variety of tools including developing the partnership agreement, evaluating the process of partnering as well as the shared outcomes, and sustaining, scaling or ending the partnership when progress has been made. Each of these steps can benefit from the presence of a partnership broker who is attentive, observant and connected to the practice.
I came away from the week with a new way of thinking and tools in my tool kit for effectively brokering partnerships. I also came to realize that not everything is or should be a brokered partnership. Sometimes we just align for mutual benefit or collaborate on a short-term project. But, when we want to maximize critical and strategic relationships, we should consider partnership brokering as an approach.
Image via https://www.partnershipbrokers.org/
Learn More:
Share this article: