Finding Comfort (and Value) in Fresh Pasta
BY: DUNCAN FIELD | MISSISSAUGA, ON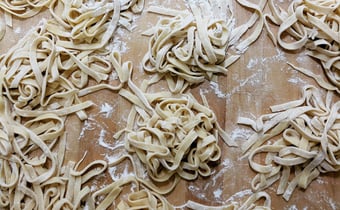 For my wife and I, food is at the center of much of our social lives. We celebrate special occasions with special meals, and we enjoy getting to know new friends over drinks and food. Social distancing has changed that, although we are continuing to meet friends for dinner over zoom or FaceTime.

One of the first foods we learned how to make together was fresh pasta. It's a communal, methodical practice that in earlier times was a great party trick – we'd host another couple and make each element of dinner together. In the midst of social distancing, we're coming back to this family favourite to recapture the idea of dinner as something to do together, rather than something to simply keep us fed. The beauty of fresh pasta, other than the taste, is that the experience of making it together is so satisfying. You get your hands dirty and must work together as a team to produce it in bulk. The food cost for the final recipe is very low for the quality of the meal you get. You can make it in large quantities and freeze the noodles for future use. Here's our recipe for fresh pasta, as well as a classic dish flavoured with olive oil, garlic, and chilies or red pepper flakes. Once you've done the work of making the fresh pasta, the actual meal comes together in less than 10 minutes.
Fresh Pasta (makes 1.5 servings)
1 large egg
1 cup of flour
½ tsp. salt
1/2tbsp olive oil
Water (about 1/8 cup, depends on humidity)
Directions
Shape as desired (for fettuccine, roll until slightly see-through, cut into thin flat noodles)
For this process, you can also use a stand mixer. Pasta rollers are also handy. This fresh pasta only takes about two minutes to cook and can be frozen after being left out to dry. If frozen, add a minute to the cooking time.