Abundant Community Edmonton Uses ABCD to Quilt Together local Gifts
Asset-Based Community Development is about looking at people's gifts and assets that exist within the neighbourhood that allows them to respond to, and create, local opportunities. How do you use local assets and gifts to guide a city to increase the social fabric and deepen community? Howard Lawrence who lives in a neighbourhood in Edmonton had the answer to this question - Abundant Community. Howard saw the power of neighbouring and wanted the city to experience the richness of neighbours sharing their gifts, knowledge, skills and abilities to improve their neighbourhood.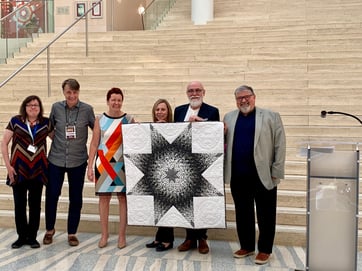 In 2013, Howard took his skills and knowledge of ABCD to the city to request funding for an Abundant Community Initiative to be piloted in one neighbourhood. The City granted $15,000 in initial funding to support a pilot project. The initiative expanded to three neighbourhoods and is now active in 106 of Edmonton's 260 residential neighbourhoods. As evidence of its success, in 2018 Edmonton City Council funded 3.5 staff solely dedicated to support the Abundant Community Edmonton (ACE) initiative.
Why was the ACE initiative so successful? It comes down to the structure. It is very simple - it has to be grassroots, citizen-led initiative. The ACE initiative has 5 areas that all work together to support each other:
City: The City of Edmonton employs Neighbourhood Resource Coordinators, Revitalization Coordinators, and the ACE Team who work in neighbourhoods across the city.


Neighbourhood Leadership can come from any individual or neighbourhood group that is looking to strengthen the connections where they live.


Support Team often originates with the early adopters of the initiative.


Neighbourhood Connector is someone from the neighbourhood who takes on the lead role in identifying, mobilizing, and supporting Block Connectors.


Block Connectors connect with the neighbours that live around them – they have three key roles: Point Person, Party Person and Listener.
The City of Edmonton places a high value on healthy neighbourhoods. They have learned the potential for neighbourly relationships to guide and support the physical, social and mental health of Edmontonians. To learn more about how the City of Edmonton has embraced the Abundant Community principles and turned it into action read the newly released case study .
Learn more: